How to Succeed in Business Without Really Trying
Music & Lyrics: Frank Loesser. Book: Abe Burrows, Jack Weinstock and Willie Gilbert. March Productions. The Goodwood Institute, Goodwood March 5 - 8 2020
I love youth theatre shows! They are full of honesty, integrity and energy. March Productions' staging of How to Succeed in Business Without Really Trying is a perfect example!
A classic 60s musical, originally starring Robert Morse and recently Daniel Radcliffe of Harry Potter fame for the 50th Anniversary Broadway revival, it has remained a staple of amateur theatre companies.
That being said, it is an extremely tricky musical to stage due to the number of men required to give the full ensemble the sound needed, as well as the difficulty of many scenes, some lasting less than a minute.
March productions have risen to the challenge successfully following their season of Barnum last year.
As usually happens in youth productions, there are two alternating casts, the Groundhog cast and the Chipmunk cast. I saw the latter cast.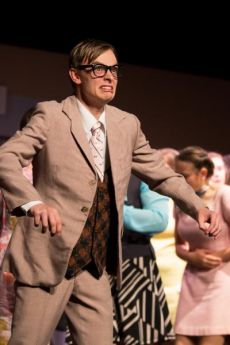 The story is timeless and explores the American ideal that anyone can rise to the top of their chosen profession (even politics). J. Pierpont Finch is a commonplace window cleaner who dreams of climbing the business world ladder. After finding a copy of the book "How to Succeed in Business Without Really Trying", Finch decides to apply the instructions in the book to quickly further his career. Soon, he's working as a mail-room clerk at the World Wide Wicket Company and rapidly fights his way up the corporate ladder with relative ease.
Working with young adults to produce performances as dedicated and dynamic as the cast in this production takes patience and skill.
Director Michelle Davy works with her large cast to develop well rounded characters, designs a clever functional set that enables swift changes and blocks her cast to ensure that every performer has their chance to shine.
Musical Director Mark DeLaine produces remarkable vocal performances from a cast of such tender years. The solo voices are strong and the harmonies true. His 10-piece band sounds marvellous in the vocal numbers. In the overture and entr'acte, the orchestration seems a little thin probably due to having to use the alternate orchestration.
Choreographer Brady Lloyd has a real knowledge of the style of choreography that excites young performers and therefore showcases them to their full potential. His choreography is quirky, stirring and totally engaging for both the cast and the audience.
The costumes, co-ordinated by Sue Winston, take us back to the 60s (for those of us who remember). I am not a fan of the fiesta tights worn by some of the girls though, which would not have featured in this period.
As J. Pierpont Finch, Deon Martino-Williams is a powerhouse. He is a triple threat - a strong true voice, a confident actor (particularly his knowing smiles to the audience) and an extremely competent dancer. He needs to 'drive' the show and he does so with ease. He handles the difficult "I Believe in You" extremely well.
Rosemary is often a thankless one-dimensional role, but Georgie Raft makes it her own and we as an audience sympathise with her constant battle to win her man. "Happy to Keep His Dinner Warm" is a highlight.
Jeremy Thomas' Bud Frump 'steals everything that's not nailed down'. He seems to have a body and face made of rubber and the athleticism to go with it. He is one of the highlights from "Coffee Break", a brilliant number from the ensemble.
Sophie Morris' Hedy LaRue is the caricature of every dumb blonde ever seen in Hollywood Films. She plants every laugh and achieves maximum results. Her number "Been a Long Day" with Smitty and Finch is a delight.
The other characters - Imogen Brown (Smitty), Tristen Farrow (J.B. Biggley), Michael Shizas (Mr Bratt), Ella Spiniello (Miss Jones), Harry Ince (Mr Twimble), Jacinda Tsakalos (Miss Krumholtz) and Laura Lines (the voice of the book) all add their unique characterisations to complete the story.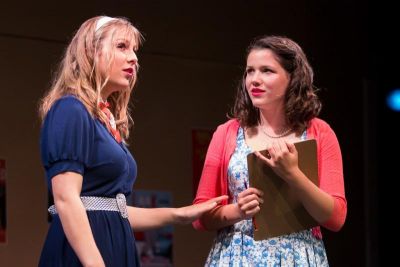 There is no musical without an ensemble and March Productions are fortunate to have so many enthusiastic performers. Highlight numbers include "How to Succeed", "A Secretary is Not a Toy", "Paris Original" and the rousing "Brotherhood of Man".
There were a few minor set problems on the first night, but this also happens in adult shows and I am confident these will be corrected during the season.
Having seen the professional production in Sydney, and several adult amateur productions, I believe March Productions should be justifiably proud of their How to Succeed in Business Without Really Trying. It captures the true spirit of the show and gives young talent a chance to shine!
Barry Hill