The Human Voice
By Jean Cocteau. Translation by Iris Guiliard. Theatre Works. Directed by Briony Dunn. 4 – 14 May 2022
Jane Montgomery Griffith renders an extraordinary 'tour de force' with the Theatre Works production of the haunting one-woman performance of The Human Voice by Jean Cocteau, directed by Briony Dunn.
Such a consummate and courageous performer; Montgomery Griffith is riveting. Despite, or maybe due to the limiting nature of a non-naturalistic set (Hahnie Goldfinch), abstracted costume (Goldfinch) and makeup – all conveying a milieu of dried blood - she delivers a complex character who is both strong and defiant and coquettish. Her exceptional capacity for vulnerability as a performer is displayed throughout.
Set, costume, light (Niklas Pajanti) and extraordinary sound (Daniel Verhagen), are often superbly synchronous. Sound is very effective and evocative.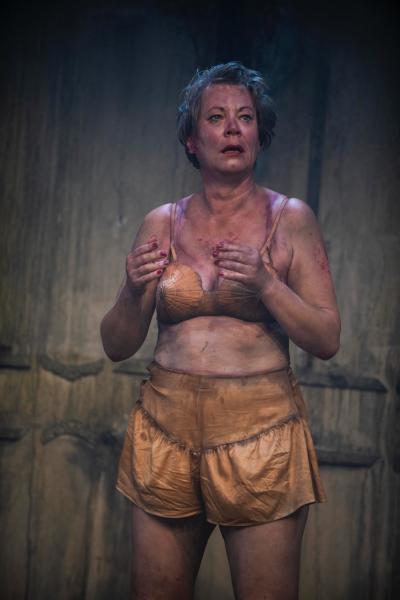 There is evocation of Beckett's Happy Days where the main protagonist is waist deep in soil. In The Human Voic,e the female character being figuratively tied to the phone proffers a similarly trapped restrictive feeling.
Montgomery Griffith expresses the over-wrought desperation and deep and harrowing grief of a spurned lover. A universal emotion that, in all likelihood, the majority of us have not dodged. It looks and feels like an overwhelming temporary insanity. She is a woman reduced to desperation, seemingly claiming fault - in that she is capable of flattering her male ex-lover albeit in harrowing desperation. The story is perhaps a little hazy, there is definitely another woman involved - whether a wife of new romance is uncertain.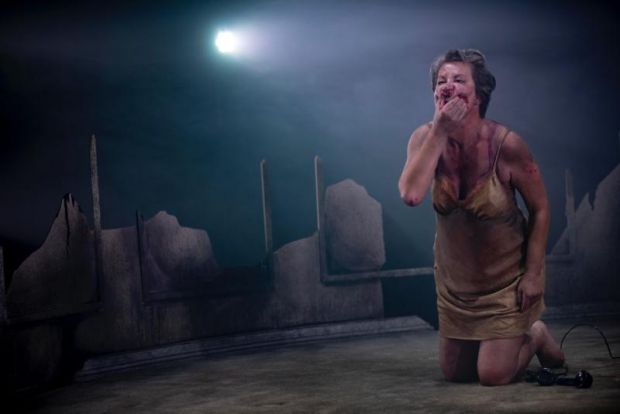 Our protagonist is in a room that could be a hotel room with a sense of the 1930s and her only link to life and her erstwhile lover is an old black bakelite telephone. This technology was very new at the time of Cocteau's writing this work. The telephone cord metaphorically becomes the cord to the heart, that is cut and cut again, or perhaps a potentially life-threatening umbilical cord……
I found this production is relentlessly obtuse - like a blunt object continually bludgeoning. And it left me questioning why so little inclination towards subtlety. Which lead me to think that culturally we have developed a taste for the blatant, rather than the nuanced. Despite seeing the whole person in Montgomery Griffith's interpretation, I was craving the work to be set in the trappings of the era of the 1930s, thereby allowing this amazing gender-neutral performance to be contrasted with the ridiculous expectations of the 'performativity of the feminine' of that era.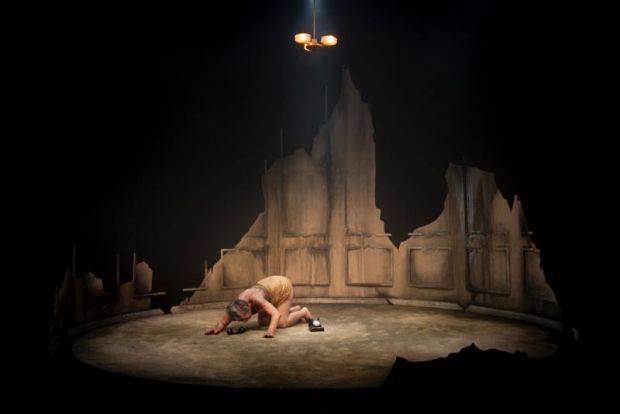 Possibly my miss-reading, but, on opening night, I didn't feel I was watching a woman who had been victimised and brutalised by the patriarchal mechanism of a system that empowers some men to be abusive. I was an overwhelmed audience member craving more 'light and shade'.
Suzanne Sandow
Photographer: Jodie Hutchinson
Performed by – Jane Montgomery Griffith
Lighting Design – Niklas Pajanti
Sound Design – Darrin Verhagen
Costume and Set Design – Hahnie Goldfinch
Movement Coach – Peta Coy
Stage Manager – Natasha Marich