Humans 2.0
Circa. Playhouse, Queensland Performing Arts Centre (QPAC), Brisbane. 10 to 20 November 2021
It may feel like a pertinent time to ask: 'What is it to be a human?' And the vivid and physical response from Brisbane-based Circa is the prescient Humans 2.0, created and directed by Yaron Lifschitz, a follow-up to 2017's Humans. The title of this Queensland premiere piece underlines in bold type the troupe's ethos of human-fuelled entertainment with acrobatic circus skills devoid of all the negative connotations of sawdust and greasepaint. This troupe of 11 performers relies solely on human skills, spirit and extraordinary talent.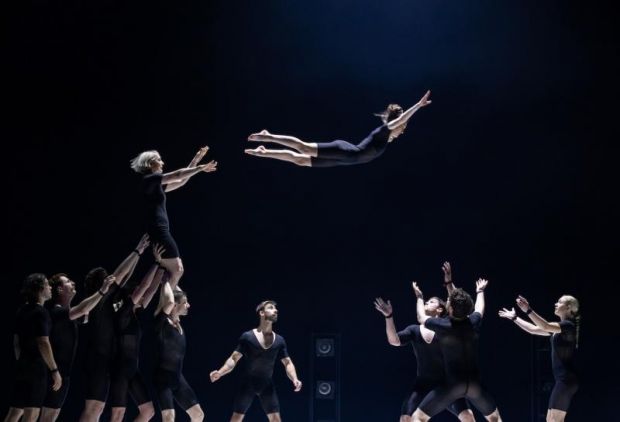 The outstanding nature of Humans 2.0 is its displays of superhuman feats – with towers of humans catching other humans as they fly through the air, and balancing acts that show sheer strength and determination. My favourite sections are those that feature all the performers on stage at the same time, pulsing and swaying in unison to energetic synth beats and 'braams' by composer Ori Lichtik that give a cinematic edge, especially accompanied by Paul Jackson's lighting, with technical direction by Jason Organ. The movements are sometimes more dance-like than acrobatic, reminiscent of flowing group pieces by Hofesh Schechter. The costumes by Libby McDonnell are minimalist lycra in burnt oranges, browns and blacks that evoke a landscape. They are unisex, which also reflects a unique strength of Humans 2.0 – its gender fluidity: there are no showcase pieces for men or women only – everyone has equal billing and can show their strengths without showing off in a competitive sense. This is a performance space where everyone is supported – essential when any slip could cause harm.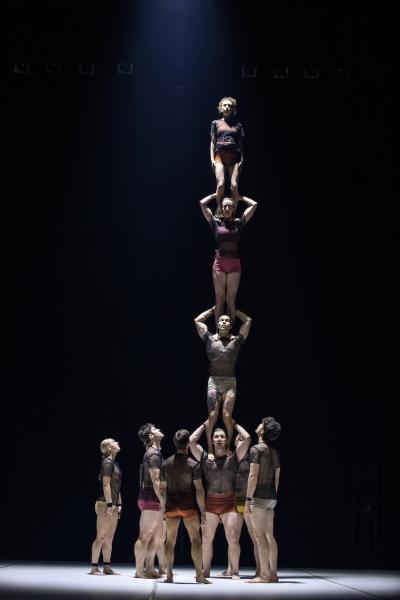 When wondering how to review ballet or modern dance, I often think that the best way to appreciate the talents of the performers is to imagine being on stage and achieving the movements that they are creating. I mean, jiving along at a Bollywood dance class is super-fun but no one's life depends on me remembering the steps and catching a person flying through the air, to timed perfection! There were humorous sections where one dancer's character rejects another, letting them tumble the shallow distance to the stage floor rather than catch them. An interesting counterintuitive disruption to the way we see and appreciate the skill involved. And I don't mind admitting that I found myself gasping several times at the quick action and split-second timing required to keep this fast-paced show moving.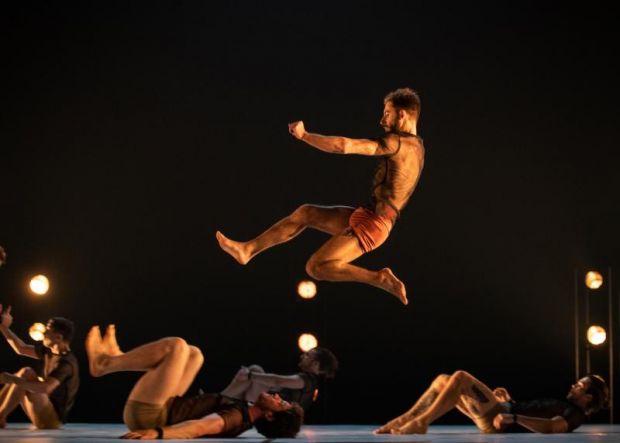 The incredibly talented humans on show in Humans 2.0 are Jon Bonaventura, Holly-Rose Boyer, Nathan Boyle, Alice Muntz, Keaton Hentoff-Killian, Gerramy Marsen, Kathryn O'Keeffe, Paul O'Keeffe, Lachlan Sukroo, Billie Wilson-Coffey, and Ashley Youren. Together, they have toured Australia and performed worldwide. This is a wonderful show to see if you've never been introduced to Circa – and equally exciting and energising if you have witnessed Circa's high-class skills in action before.
Beth Keehn
Photographer: David Kelly