Iconic, A Brief History of Drag
Adelaide Fringe Festival 2018. Parasol at Guttony. March 6-17, 2018.
Life is anything but a drag in Iconic, A Brief History of Drag. Velma Celli, aka Ian Stoughair, takes us on a wild sixty-minute ride about becoming a drag diva.
From life in music theatre as a West End chorus boy to the drag icon 'she' has become, the audience (and I) are right behind her and our reaction builds to a crescendo at the end of the night.
On an almost bare stage, except for a Priscilla - like table, stool, microphone and some incredible silver shoes, Velma quickly helps the audience feel at ease and an integral part of the show.
She possesses an amazing voice that can stand by itself or imitate famous drag divas or men who were influential in furthering the drag persona.
From David Bowie and Freddie Mercury to Rocky Horror and RuPaul her amazing vocal range covers a wide range of songs from moving ballads to pop.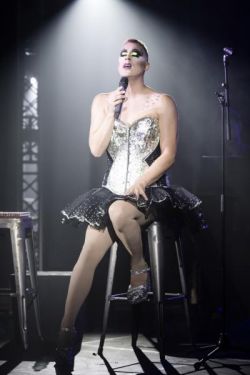 Velma gives us an insight into her personal life by including some intimate anecdotes from how Velma Celli was created to some favourite quotes from the 'Tranny Bible'. This allows the audience to glimpse the man behind the makeup, which makes his drag character more believable.
David Bowie and Freddie Mercury play an important role in Velma's drag creation and she invites her audience to sing along as an homage to these gay greats who sadly left us too young.
I particularly enjoyed the Diva Mega Mix where she impersonates some of her favourite pop divas from Brittany Spears, Shakira and Cher to Anastasia.
On the night I saw Velma's show the power went out two thirds of the way through the night. Being the true drag diva she is, this did not stop Velma. She kept us entertained (by the lights of audience iPhones) with stories of her overseas travels and picked up the show again with ease when the power came back on.
Her pianist Joe provides solid backup on keyboards and voice. He even contributes one of the jokes for the evening. There is an obvious rapport between the two and they complement each other.
As always, a drag diva does not always have spotlessly clean language, but we do not expect that from a performer who has evolved through blood, sweat and tears.
Velma's last number (from La Cage Aux Folles) sums up her life so far and the Gay movement as a whole. It was a moving performance and had the audience on their feet. Velma is a drag delight.
Barry Hill
Images: S Rylander.