Il Viaggio a Reims
By Rossini. Opera Australia. State Theatre, Arts Centre Melbourne. May 24 – Jun 1, 2019
Opera Australia gave this Rossini opera its Australian premiere. Written to celebrate the coronation of Charles X of France in 1825, the characters are technically on their way to Reims for the coronation...although when they are delayed and decide on Paris instead to aim for the post-coronation parties, nobody seems overly upset, although nobody notably departs for anywhere, a "Godot for the 1820s". It is very grand disposable art.
This is an opera with fourteen principal roles, (each of whom gets their turn in the spotlight), the flimsiest of plots (based very loosely on a novel, Corinne by Madame de Stael), and a way for Rossini to both celebrate and poke fun at salon society, while providing a showcase for outstanding vocal talent for a massive public event - one of three operas composed for the occasion. Each of the characters has a different nationality - providing fertile ground for gentle mockery of national character - making this an early forerunner of Euro-pudding artistic collaborations in the 20th century.
Completely in the spirit of its composition, Director Damiano Michieletto placed the entire eccentric cast of characters in a large art gallery filled with crates, massive gold picture frames and the master works of art history (the sets and costumes by Paolo Fontin and Carla Teti were rich, colourful, detailed, and quite beautiful). It's a clever and playful conceit, as there are both people tied to the gallery - Jennifer Black, Conal Coad, Julia Lea Godwin, Christopher HIllier and the OA chorus (in great voice), with the wonderful Ruth Iniesta as a student there to sketch the art, as well as gallery visitors.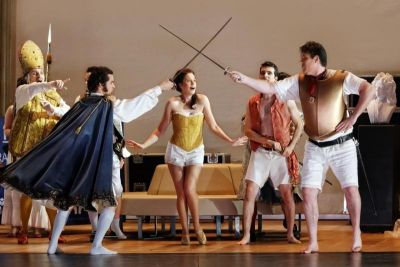 The rest of the characters, follow absolutely no rules, and create their own little worlds as they move naturally and cheerfully both in and out of frame, and in and out of their own era as well. About halfway through act 1, myself and my companion realised that narrative causality was firmly out of the window, and settled down to enjoy the lush visuals and sparkling singing, while giggling more often than not.
Barriers dissolve and re-form as giant, ornate frames are dropped around a series of delightful tableaux. At one point famous paintings come to life: Velázquez's enormous dress on the Spanish Infanta is cheek by jowl with a figure from Keith Haring's iconic modern murals. Frida Kahlo and van Gogh compare self-portraits. Teddy Tahu Rhodes, as an art restorer pining for the lady in his painting, finds that art can get up close and personal when the painting embraces him, then comes to life (with a fabulous comedic turn from the ladies of the OA chorus) and liberally smears him with paint (read into that what you will). The final tableau is an inexorable and quite marvellously-ornate reconstruction of the Francois Gerard painting of the coronation of Charles X.
Rossini's music sparkles in this opera, especially with the invigorating intersection of fun, a deft comedic directorial touch, assured and glorious singing from the entire cast, and Daniel Smith's sensitive and lively conducting of an in-form Orchestra Victoria.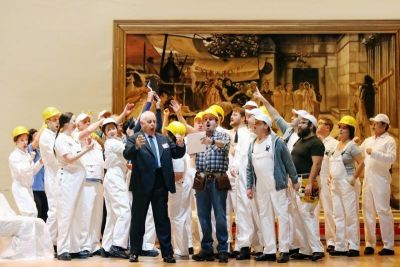 The cast presents a great sense of ensemble, particularly at such moments as the 14-part act 2 finale, but as mentioned above, each of them gets a chance to show what they can do, and the individual singing is quite spectacular - especially when considering that the mini-narratives each singer has to act out independently of the vocal demands of the score hinder them not one bit.
It is difficult to single out particular performances in such a strong cast. However, Don Profundo (Giorgio Caoduro) singing the fiendishly fast and wordy 'catalogue' aria Medaglie incompirabili, while also conducting an 'auction' is a particular highlight, as is the tender duet between the Conte di Libenskof (Shanul Sharma) and the Marchesa Malibea (Sian Sharp). Juan di Dios Mateos (Cavalier Belfiore) very amusingly struts and poses his way through an epic declaration of love to Corinna (who is unmoved). And although in my opinion Rossini has always shone in the ensembles in his operas, the ten-minute powerhouse performance by Ruth Iniesta (Corinna) which concludes the opera was a display of bel canto singing at its finest.
Alex Armstrong
Photographer: Prudence Upton