The Illusionists 1903: The Golden Age of Magic
Presented by QPAC in association with Tim Lawson and Executive/Creative Producer: Simon Painter. Creative Director: Mark Kalin, Original Music: Evan Jolly, Scenic Designer: Todd Ivins, Costume Designer: Angel Aaron, Lighting Designer: Christopher Boon Casey. QPAC Concert Hall, Brisbane. 4-11 January, 2015; Festival Theatre, Adelaide Festival Centre, 15 – 25 January 2015
Many years ago I remember seeing an old historical documentary tracing the incredible talents of the fast fading performers of the Vaudeville era. Fortunately the silent era of film was already in the making and able to capture some of these artists' talents before being lost forever. Ironically, though, it was the film industry that gradually dissolved their world, as producers started to cash in on the benefits of transforming their venues into movie houses.
I was absolutely mesmerised by the ingenuity, skill and dexterity of these historic artists and felt it a tragedy to see such a decline in this captivating art-form. So you can imagine my delight to see this era unearthed again in a night of pizzazz, comedy and expert display.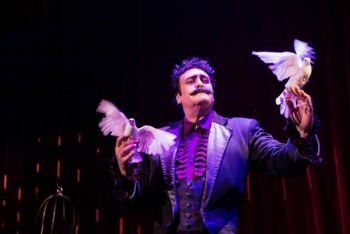 In Australia we used the term Variety for this kind of entertainment, and with the QPAC Concert Hall magically transformed into a theatre, that's exactly what we got: all the famous acts, sawing a woman in half, levitation, disappearing tricks, doves appearing from no-where, card and coin tricks, harrowing escape routines, clairvoyants and a brilliant performance by Charlie Frye with his singular blend of silent comedy, magic, juggling, slapstick and acrobatics complete with a hilarious sidekick's subdued comedy act of her own. Additionally, each performer blended their unique personality and collaboration with enough audience rapport and participation to induce nervous giggles even in the back row; with those, at times, no doubt checking to see if personal belongings have changed in any way or else are still there!
Accompanied almost continuously by an inspiring and at times moving score effectively tagging along with the action, a skilful fusion of theatrical timing, presentation and production value, this franchise demonstrated family entertainment teetering on world class heritage. Sure we've seen some of these acts before but this is edge-of-seat, gob smacking entertainment with just as much pulling power as Hollywood in her full glory, CGI and special effects included. And it's live.
If you are ever plagued by those sleepless nights dwelling on 'how ever did they do it?, this new show by The Illusionists may see you grabbing a potion or two, but at least your dreams will be enhanced by this 1903 historical version of a 2015 Golden Age of Fantasy and Make-believe.
Brian Adamson
Photographer: Dylan Evans