Inheritance
By Hannie Rayson. The Stirling Players (SA). Stirling Community Theatre. February 21-March 8, 2014.
Adelaide's Stirling Players' production of Hannie Rayson's confronting and provocative play Inheritance is innovative in its staging, while the interpretation is graphic in presenting the story's family issues, endemic prejudice and the stark realities of farming life in rural Australia.
Set in the Mallee in northwest Victoria, the play tells the story of two families, each headed by one of elderly twin sisters, Dibs Hamilton and Girlie Delaney. As the extended family gathers for the sisters' eightieth birthday, Dibs' husband Farley is declining into dementia. Decisions need to be made about the future of his and Dib's farm; is it time to sell the farm and if so, who will inherit it? Tensions and long-held animosities flare and life-changing secrets are revealed.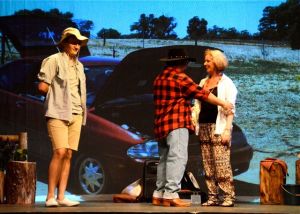 Peter Kentish is an absolute stand-out as Farley Hamilton, the increasingly demented grandfather. His characterisation is natural and totally believable; superb work. As Farley's wife Dibs Hamilton, Julie Quick is excellent, particularly as a woman torn between her love for her fostered part-Aboriginal son Nugget and her latent resentment of him.
Ben Todd is genuine in his role as hard-working Nugget Hamilton, although in addition to his anger I'd like to see the character's devastation and sensitive nature shine through more after Dibs finds Farley's Will. Having said that, the multiple 'short episode' nature of the scenes in the play provides little time to build and sustain this.
The other Hamilton children, William and Julia, played by Tony Busch and Joanne St Clair, come to the family gathering with contrasting opinions about the future of the farm. Busch is terrific as the selfish gay son who is convinced he has inheritance rights despite his lack of farming expertise; a strong yet subtle performance. St Clair is equally good as Julia, an independent woman who cares deeply about her family and the farm, but who has her own explosive secret. Young actor Alex King shows great promise in his dual roles as Julia's misunderstood vegan son Felix Hamilton-Grey and in the back-story of Lofty Blake.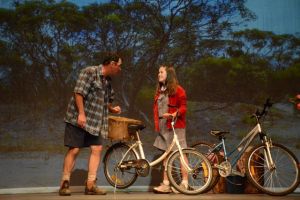 In the Delaney family, Madeleine Marin is both funny and strident as Dibs' bigoted and polio-disabled elderly twin sister, Girlie Delaney. Deborah Walsh does a great job as outspoken, racist Maureen Delaney. The character's disgust at her drunken husband's inability to provide for his family is strongly portrayed as is the underlying jealousy and resentment she harbours towards the Hamiltons. Her campaigning cameo is terrific. Peter Davies completely embodies the debt-stressed drunk, Lyle Delaney. Lyle's desperation shines through in Davies' excellent performance.
Jasmin and Zoe Muller play Maureen and Lyle's young daughters/ Girlie's granddaughters, Ashleigh and Brianna, as well as having the additional roles of Young Girlie and Young Dibs respectively. They are delightful. The remaining support cast are uniformly good.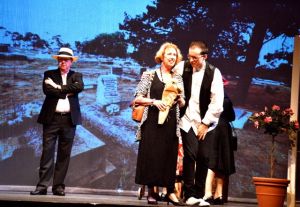 The scenes denoting the past are cleverly staged, while the setting and bird sounds provide an entirely realistic sense of country Australia. The creative use of film and projection are a credit to Director Geoff Brittain and the designers/crew concerned. The episodic nature of the play, the use of projection and the size of the stage make lighting difficult, but it is generally quite good. Sound design is creatively good, but is cut off too abruptly at times as scenes change.
'Abrupt' describes the play's ending too, but this is a fault predominantly of the writing.
Stirling's excellent production of Inheritance deserves good audiences, don't miss it.
Lesley Reed
Note - contains strong language and confronting themes.
PREVIEW AND BUY THE SCRIPT HERE.