Ink & The Unknowns.
Devised, directed and choreographed by Callum Mansfield to music composed by Maitlon Drew. Harvest Rain Theatre. Mina Parade, Brisbane. 27 Feb-2 March 2013
This unusual production is actually a sort of choreography sampler. There is no dialogue – mercifully for the performers, as they dance continually – and hence no plot. (Imaginative people, however, may devise their own story; plenty of clues are there for a variety of narratives.)
As Callum Mansfield explained his dream to composer Maitlohn Drew, he wanted an original, modern score to choreograph. "Be as creative as possible" was the challenge. They agreed on a techno style that tied in best with the emerging post-apocalyptic 'feel' of early compositions. A Rob Raftery poem provided the non-committal title and a concept for the suite of diverse but strongly rhythmic segments.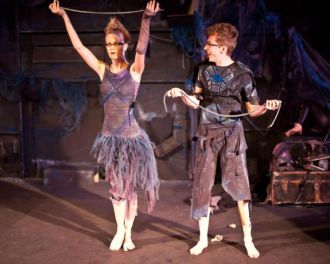 So the show was born: Cameron Whitten, with a raft of public successes behind him, became Ink. Equally successful and acclaimed, the four cutely-named Unknowns are Maureen Bowra (Ex), Hannah Crowther (Why), Lauren Heidecker (Dubble) and Tom Markiewicz (Zed).
The fifty-frenetic-minutes open when the Unknowns, existing in a sort of limber-lost land of destruction, detect Ink's light and 'dig him up'. From there on they begin to embrace our social obsessions, weaknesses, relaxations and foibles, to a multitude of wild rhythms, some immediately recognisable, many a new experience for the audience. But always engaging, entertaining, provoking.
Until the light goes out. (Is there a message there?)
Jay McKee
Photography by Nick Morrissey