It Shoulda Been You
Music by Barbara Anselmi, with book and lyrics by Brian Hargrove. Chatswood Musical Society. Independent Theatre, North Sydney. March 31 – April 8, 2017
2015 Broadway musical It Shoulda Been You often feels like pure musical comedy, yet it's also a snappy marital musical farce, with frequent nods to vaudeville. While there's a lot that's old-fashioned about this show, especially many of the gags, it also has a joyous and contemporary take on families and marriage. The maternal wrangling over an inter-religion Catholic / Jewish marriage is one fairly obvious plot twist among many, though I'm loathe to discuss plot any further and risk the minefield of potential spoilers.
Director James Worner clearly grasps the essence of farce and vaudeville shtick, ensuring the timing works and the show's regular surprises land as intended. Designer Neil Shotter's effective use of the venue's somewhat awkward split-level stage helps Worner and his cast to achieve good pace and timing.
Michaela Leisk's Rebecca Steinberg is a picture-perfect bride, while Dave Berry makes an equally handsome groom as Brian Howard. Though both sing attractively, it's Chloe Angel as Jenny Steinberg (the bride's sister and bridesmaid) who takes out the vocal honours in the bridal party. To be honest, she's helped by getting more and better numbers than most, in a score that supports the story effectively without being especially memorable.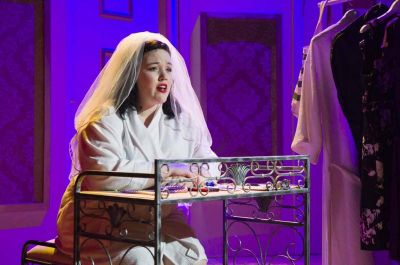 Best man (Greg Thornton as Greg Madison) and second bridesmaid (Dylan Hayley Rosenthal as Annie Shepard)get their best moment in a kooky comic duet at the reception, also landing their key contributions to the romantic twists and turns confidently and credibly.
Jon Emmett, as the bride's best friend and ex, Marty Kaufmann, is the chief farceur early on, constantly popping up trying to stop the wedding. He's earnest, sincere, and sometimes just a little bewildered.
Much of the real fun, though, comes from the two mothers, Kate Mannix as the bride's Jewish momma, Judy Steinberg, and Chapin Ayres as mother of the groom, Georgette Howard. Opposing forces of nature, they bitch-battle their way entertainingly through the show, belting out their numbers with style and assurance.
The two fathers, relatively thankless roles by comparison with the dominating mums, are capably handled by Michael Saddington as George Howard and Ken Goth as Murray Steinberg.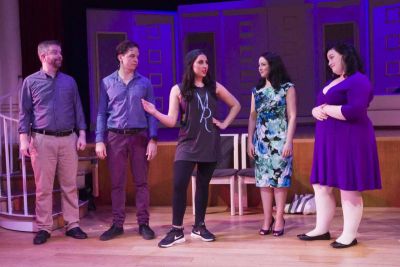 Atha Kastanias nails his campy stereotype as wedding planner Albert, Julia Brovedani romps farcically as Sheila, the bride's horny middle aged aunt, while Graeme Halliday dithers and dodders perhaps just a little too self-consciously as senile Uncle Morty.
Musical Director Natalya Aynsley controls the small concealed band admirably, though the sound mix between singers and band was sometimes disappointing on opening night, with pitch problems marring harmonies occaisonally.
Chatswood Musical Society is successfully transforming itself into a boutique theatre company in its new home at North Sydney's Independent Theatre. One hopes that this Australian Premiere is just the first of many opportunities they provide Sydney audiences of those lesser known musicals.
Neil Litchfield
Photographer: Alan Roy