James Galea's Best Trick Ever
A Rose Tinted Enterprises production commissioned by Sydney Opera House, enabled by Taylor Construction Group and COMVISION® Security Solutions. The Studio, Sydney Opera House. January 6 – February 14, 2021
Opening night of the 2021 Sydney Festival and it doesn't feel very festive. Circular Quay is virtually deserted. The giant passenger terminal is all locked up. Ferries run near-empty services. The Opera House is in lockdown, with masks for everyone and all entrances tightly patrolled.
Never mind: we're going to a magic show, James Galea's Best Trick Ever, and nothing is going to spoil our evening. There's no printed program but that's not a problem: James has gathered four fellow magic practitioners and, in a fast-paced show directed by Wayne Harrison, he's set to bring his best magic trick ever to a ready audience.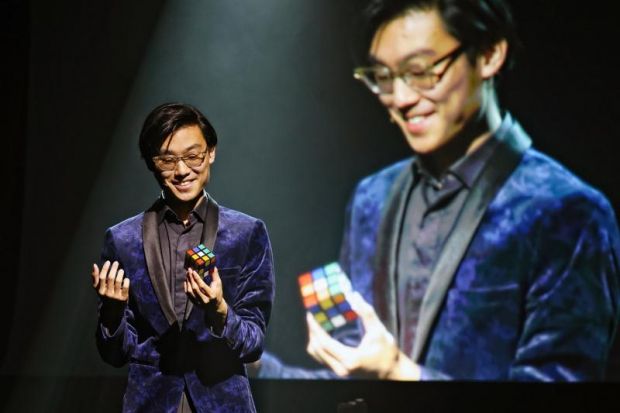 James is seated at a grand piano, dashing off tricks, and welcoming his four magic friends to his living room. There's Raymond Crowe, 'unusualist', a round googly man who can grow alarmingly inside conjoined hoops, and Dom Chambers, who produces eight full glasses of beer from a brown paper bag that doesn't appear to be able to hold one.
Then there's a lady escapologist, Helen Coghlan, who tells us that she's had three appearances on Penn and Teller's television show and fooled them every time. She builds a metal cage from scratch, pops inside and, once shielded from public view, hey presto, in one bound she's free. Hmmm.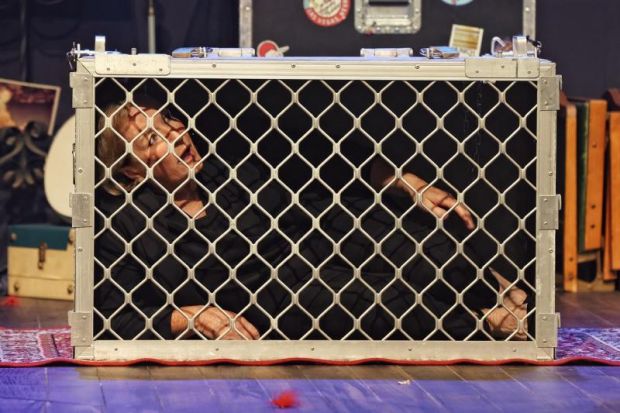 To complete the team, there's Vincent Kuo. A pleasant young man, he presents Rubic's Cube magic with the aid of a camera and screen: it seems very speedy and clever until, towards the end of his act, his Cube seems to fracture and collapse in a heap.
In between guests, James has been doing plenty of slick tricks with a pack of cards, some of them baffling, but none that could be labelled Best Trick Ever. Never mind, it's just a title.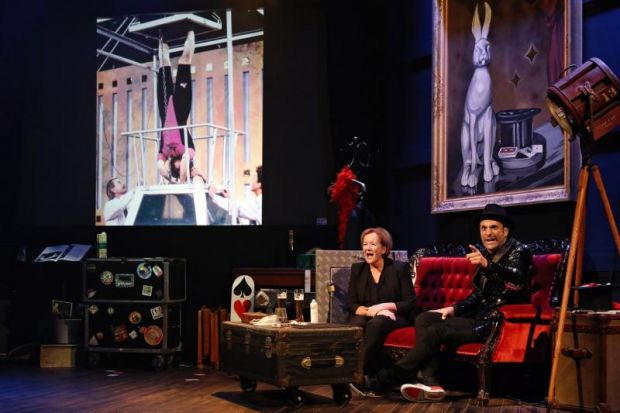 In the final segment of the show, James brings his four guests back to say farewell. Helen does a great trick with an unstrung tennis racket that goes into a container and, pow, comes out completely strung. And Raymond does a brilliant hand-puppet rendition of Louie Armstrong's 'Wonderful World'. This gets the best applause of the night and there's no trickery involved.
Frank Hatherley
Photographer: Prudence Upton