Jasper Jones
Adapted by Kate Mulvany, from Craig Silvey's novel. State Theatre Company of SA. Dunstan Playhouse. 16 Aug- 7 September, 2019
Jasper Jones, Craig Silvey's much loved Australian novel, has been captured for the stage beautifully by Kate Mulvany. In this production by the State Theatre Company of SA, director, Nescha Welk weaves a thought-provoking tapestry amid a standing forest of towering eucalypts.
The stage has been transformed by designer Alisa Paterson into a two-level set, amid seven giant paperbark trees that dwarf the actors to give the illusion that these adult actors are children. This, coupled with clever lighting by Nigel Levings and the forest projections, create a template which can be surreal and mysterious or harsh and dry as the story requires.
In the narrative, thirteen-year-old Charlie Bucktin lives with his rather dysfunctional family in the town of Corrigan, in Western Australia. One evening, Jasper Jones, a local indigenous boy with whom Charlie has never spoken, knocks on his window, beginning an adventure that will change Charlie's life and the town, forever. Jasper leads Charlie to 'his place', deep in the bush where he reveals his girlfriend Laura Wishart apparently beaten and hung from a tree. Jasper knows that as the scapegoat of the town, and that it has happened in 'his place', means he will be blamed. This catapults the pair into a hunt for the killer that ultimately has a very poignant but disturbing reveal.Charlie is thrust from his safe world where boundaries are clearly laid out by his mother, where his father's place is secure and he knows who are true friends and who are the bullies, to have his life turned upside down.
Jasper Jones is a coming of age play - a story of courage, of finding true self and identity. The setting is the 1960's-a time of great change in Australia; the impact of the White Australia policy, The Vietnam war and rising prejudice as well as changing attitudes amongst women in their bid for freedom and equality. These themes and the ongoing racism towards indigenous people are key to the Jasper Jonesstory. The darker side of the 'simple 60's' is brought to the surface, flooding in and pervading the story.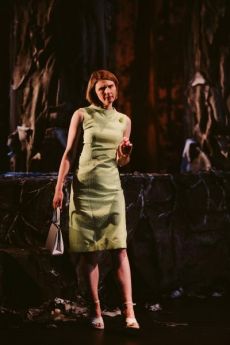 The perception of the simplicity of life in a small Australian country town is cleverly captured in minimalist set pieces; for example, Charlie Buktin's louvred sleepout, Jeffrey's front door and the creepy farmhouse door of Mad Jack. This belies the true message of the play- that life in the town of Corrigan is far from simple- there are tensions, fear, hatred, racism, infidelity and mistreatment.
At curtain rise, we meet the protagonist of the play, Charlie Buktin. Charlie is a 13-year-old bookworm with the usual dreams and ideals of most young boys in the 60's. He is innocent, voraciously defending his superheroes and openly accepting of people who don't fit the mould- like Jeffrey Lu, his Vietnamese friend and Jasper, the isolated indigenous boy who is the scapegoat for most transgressions in the town.
Charlie breaks the fourth wall as narrator, and it is through his eyes that we journey into and through the story. Played superbly by James Smith, Charlie is vibrant, humorous and naively fearful at times. Smith has excellent comic timing and convincingly youthful physicality. Charlie's self-discovery and maturing is tangible- a wonderful performance.
In the titular role is Elijah Valadian-Wilson. The character is enigmatic and calm, but at the same time has an underlying passion- for his 'place' and as we find out, his love- Laura Wishart. Valadian- Wilson does a strong job as Jasper, with obvious pain over his lot in life, his acceptance of what he can't change and the inexplicable prejudice of people in the period. His movement on stage is purposeful and mesmerising as we follow Jasper to his place and as the story unravels.
Roy Phung as Jeffrey Lu gives great comic relief as the marginalised, cricket-obsessed friend. He shows great skill in bringing this joyful character to life and we see the pain of prejudice towards him and the impact of the war on his family.
Rachel Burke plays the dual roles of Laura Wishart and Eliza Wishart. She is wonderful as the ghostly character of Laura that pervades Charlie's dreams. She brings beautiful physicality into Laura's presence. As Eliza, Burke is perky and fun - the epitome of a young girl of the 60s. Eliza's monologue via her sister's letter is poignant and beautifully executed.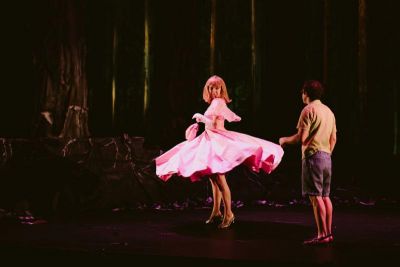 Emma Beech in the dual roles of Charlie's mother and Warwick, the school bully, is exemplary. She represents the frustration of the housewife, locked into a boring marriage, trying to break free, but as a mother she is also quite tyrannical. At the same time her portrayal of Warwick is strong- the school bully whom we all feared in the yard.
Rory Walker plays Charlie's ineffectual father and also Mad Jack, feared by all in the town. His storytelling and monologues are powerful as we find out the story behind the character's isolation.
Jasper Jones, whilst set in the 1960s has ongoing relevance for us all. It provokes us to ask- has Australia truly changed or are we still waiting for our coming of age in accepting all? In an era where fear motivates refusal of refugees and wariness of difference, we need that tap on our window to wake us up and take us on a journey of discovery and awareness. We need to be vigilant for bigotry, prejudice and inequality. At one point in the play it likens our indifference to what is happening, as it being 'cold outside', but we don't mind because inside we 'are warm'.
Jasper Jones is an excellent piece of theatre that is moving, funny and cleverly executed.
Shelley Hampton
Photographer: Kate Pardey