Jeeves & Wooster in Perfect Nonsense
By P.G. Wodehouse, adapted by David and Robert Goodale. Richmond Players. Richmond School of Arts. August 10 – 24, 2019.
Sir Pelham Grenville (P.G.) Wodehouse (1881-1975) created the character of dithering English gentlemen Bertie Wooster and his impeccable valet, Jeeves in 1915. They made their hilarious way from 1915 to 1974 in a series of books, then through two TV series – one with Ian Carmichael and Dennis Price in the 1970s, the other with Stephen Fry and Hugh Lawrie in the 1990s. This charming adaptation by the Goodale Brothers is based on the novel The Code of the Woosters, first published in 1938.
In the adaptation, Wooster, in his usual role as narrator, stages a re-enactment of a "perfectly frightful" weekend in the country, requiring Jeeves and his Aunt Dahlia's butler, Seppings, to play the roles of all the other characters in the story and establish the various settings, from Bertie's bedroom to an auction house to a car trip to the country, a country residence – and in one scene, Bertie's bath! Consequently, they are kept very busy while Bertie, who once described himself as having "half the amount of brain as a normal bloke might possess" hems and haws his way through telling the story.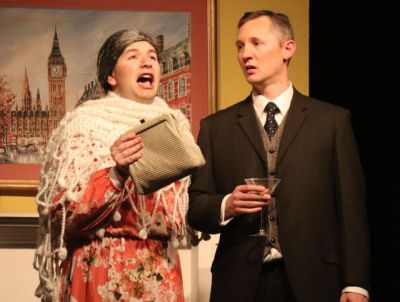 With lots of entrances, exits, wigs, hats, an umbrella, a policemen's helmet, a silver collectable and a hidden notebook, comedy ensues. As in all comedies, pace is important. So too is sustaining the satiric stereotype of each of the characters. Director Kyle Lowe, a long-time fan of Wodehouse's "witty prose, crazy plots and delightful characters", pays tribute to the way her "committed and talented cast have worked so hard" to bring the production to life.
Joel Baltaks is amiably affable as Wooster, chatting congenially with the audience as he introduces the characters and the scene changes. He establishes the vacuous naivety and biddability that is so typical of Wooster's personality, whilst still sustaining the timing needed for the various changes in place and pace – much of which is dependent on the ever-reliable Jeeves, played with sardonic disdain, and artfully expressive looks, by Robert Hall.
"Directed" by Wooster as narrator, Hall moves various pieces of the set on and off – and takes on the roles of a blustering magistrate, a bespectacled blatherer and a simpering socialite. He moves easily in and out of these roles, always returning to the virtuous valet whose ingenious solutions to Bertie's problems are intrinsic to Wodehouse's plots.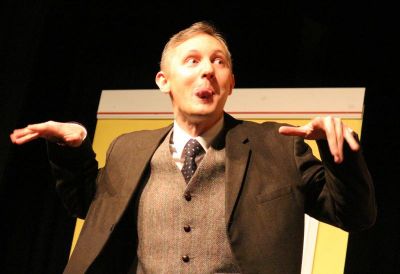 Ethan Patrick, who plays Seppings, also takes on a collection of roles, playing Aunt Dalia herself (with a cunningly used fur-trimmed fan), a cynical shop attendant, a clumsy constable, and an anti-hero whose growth in height results in some increasingly funny exits. Patrick uses silent, expressive asides to the audience as cleverly as he changes his voice, gesture and stance to establish the different characters.
Under Lowe's guidance, these three talented performers, supported by a busy backstage crew, bring P.G. Wodehouse's much-loved characters from 1920s London to the stage of the heritage-listed and carefully maintained Richmond School of Arts. What could be a more appropriate setting for Bertie Wooster and his ever-vigilant valet to materialise!
Carol Wimmer