Jekyll & Hyde: The Musical.
Book and Lyrics by Leslie Bricusse. Music by Frank Wildhorn. Director: Ben Todd. Musical Director: Ben Stefanoff. Choreographer: Rebekah Stonelake. Marie Clark Musical Theatre Company. The Arts Theatre, Adelaide. 26 May – June 3, 2017.
'Tis certainly the season in Adelaide for releasing our dark sides onto the musical stage! MCMT's production of the classic R.L. Stevenson tale is an example of musical theatre that takes us back in time while attempting to both touch our emotions and jangle our nerves, rather than simply push our nostalgia buttons. Boasting a brilliant central portrayal, some strong supporting performances, a talented ensemble, and generally impressive musical/technical qualities, this Jekyll & Hyde is a winner.
If only the score to this show were more consistently impressive and inspired, then it could be a contender for the title of 'true classic', along with those musicals that it takes its greatest inspirations from. Fortunately, the talented musicians assembled here give these songs the best possible chance of succeeding; the triple-keyboard setup, in particular, achieves some striking sonic textures.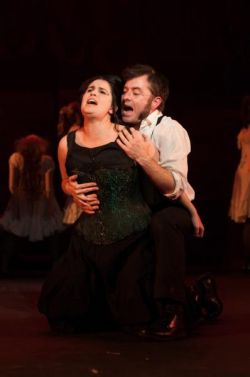 Set design (by the multi-talented team of Renee Brice and director Ben Todd) works very well in conveying the grime of outdoor streets and the gloom of interior laboratories. The lighting design of Jason Groves appears solidly supportive to the staging. The choreography is jagged and jarring at times, but this actually serves the tone of the piece quite well. The vocal ensemble are particularly effective when called upon to generate a tense and ominous atmosphere.
David MacGillivray has displayed an undoubted talent on Adelaide stages for a number of years now, in shows comedic and dramatic (or both), musical and non-musical. The title role in Jekyll & Hyde is almost certainly his greatest work to date. It is a terrific challenge for the lead performer in this story to encompass all the facets of such a split personality on stage in a manner that avoids the appearance of silliness, and it is even harder to achieve this while meeting the musical demands of the role. Bravo to this fine actor for what he achieves here!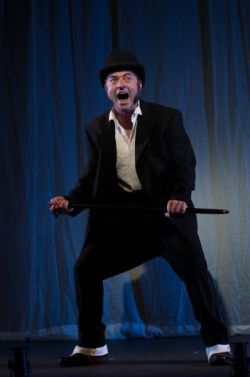 Supporting him ably are Ashley Muldrew as Jekyll's refined fiancé Emma Carew, and Sarah Wildy as the far-more-worldly Lucy Harris; both women possess superb voices that perfectly capture the essence of their roles. Jamie Wright offers typically consummate comic relief in his brief stage time as butler Poole, while Matthew Redmond is simply a revelation in the brutal role of Spider; never less than intimidating, and frequently downright frightening, it's a stunning, stand-out portrayal from him.
Not everything in this production works equally well. The tongue-in-cheek opening will be strictly a matter of personal taste, and some of the performances in smaller roles make a rather distracting impact, either through slight overplaying, or else what sounded to this reviewer like blatantly anachronistic ad-libbing; fortunately, these moments are just moments, and cannot sway this ship off course.
Not likely to be labelled a light-hearted experience, Jekyll & Hyde should be seen by those who wish to be exhilarated by a gripping story, one that is energetically presented and impressively acted by top-drawer talent.
Review by Anthony Vawser