Jesus Christ Superstar
By Andrew Lloyd Webber and Tim Rice. Harvest Rain @ Playhouse, QPAC Director: Tim O'Connor. Musical Director: Maitlohn Drew. June 17 – 26.
Harvest Rain's acclaimed production is back again at the Playhouse four months after its originally scheduled return season due to the Queensland floods and it's better than ever.
Luke Kennedy, who's now played Jesus in four different productions of the work, the most recent for GSSA in Adelaide, is a true star. With thrilling top notes and an impassioned dramatic performance he stood head and shoulders above the rest of the company.
Also outstanding was Paul Watson's Judas. A replacement for Tod Strike, Watson's powerful vocals brought charisma and far more depth to the role than Strike ever did in the original production.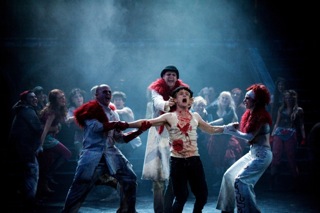 Naomi Price was once again an arresting and vocally exciting Mary.
Others to be noticed and all repeating their original roles were Lionel Theunissen (Pilate), Lawrie Esmond (Caiaphas), Shaun Kohlman (Simon), Justin Truloff (Peter), and Steven Tandy who's "King Herod Song" was again a crowd-pleaser.
The only misstep in Tim O'Connor's direction was the long drawn out sequence of Jesus' death on the cross. A little less would have been ample. But Josh McIntosh's impressive cathedral set, Maitlohn Drew's tight musical direction, and Callum Mansfield's effective choreography, all contributed greatly to what was one of the best Superstar productions I have ever seen. Peter Pinne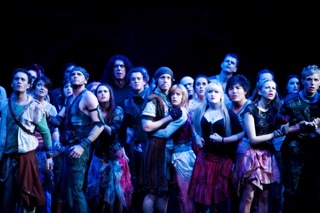 Reviewed at the preview performance 18 June 2011. Unfortunately Paul Watson broke his leg at the matinee performance on Sunday 19 June, 2011, and was unable to continue in the role of Judas. His replacement was Shaun Kohlman.
Peter Pinne
To keep up with the latest news and reviews at Stage Whispers, click here to like us on Facebook, or follow us on Twitter.
Media release on the injury to Paul Watson (Judas) and changed casting.
Harvest Rain's production of Jesus Christ Superstar opened at the QPAC Playhouset with significant changes to the line-up of performers after Paul Watson, who plays the role of Judas, injured himself during the matinee performance and could not go on for the evening show.
During the final scene of the first act, the character of Judas is required to fall on stage, a sequence which usually occurs without incident. But during the matinee performance yesterday, Mr Watson fell awkwardly and broke his leg on stage. Unaware that his leg was broken, he hobbled through the remainder of the song and finished the act before seeking medical attention during the intermission. Once the severity of the injury was understood, the second act of the matinee performance was cancelled and Mr Watson was taken to hospital for further medical attention.
With only three hours until the opening night performance, the cast and creative team worked quickly to train Shaun Kohlman, who usually plays the role of Simon, as a replacement for Mr Watson. Mr Kohlman went on for the opening night and gave a stellar performance as Judas with less than 3 hours of rehearsal, with the role of Simon covered by Guy Maybury.
"Because it was opening night, we really hadn't had time to rehearse any understudies for the show, so we were caught off guard", says director Tim O'Connor. "We were all just so concerned for Paul, but we knew that the show must go on in true theatrical tradition, so the entire team pulled together to make opening night happen. I'm so proud of this team and in particular of Shaun who literally saved the show with such short notice!"
Today, a medical team confirmed that Mr Watson will be unable to complete the remainder of the season while he recovers from his injury. Shaun Kohlman has been named as the official replacement for Mr Watson in the role of Judas, and his first official performance in the role will take place on Tuesday night after two days of intensive rehearsals. The rest of the cast remains unchanged, with Luke Kennedy as Jesus, Naomi Price as Mary, Lionel Theunissen as Pilate, Steven Tandy as Herod, Lawrie Esmond as Caiaphas and Justin Truloff as Peter.
"I have complete faith in Shaun and I know that his performance as Judas will be well received by audiences," says Mr O'Connor. "He is such a talented up and coming musical theatre star and this is a moment for him to shine. We are deeply saddened by Paul's sudden departure from our show and our thoughts are with him and his family at this time. We just want to thank him for everything he brought to this show and wish him a speedy recovery."
Audience members who attended the Sunday matinee will be contacted by QTIX to arrange a ticket exchange to one of the remaining performances.
Tuesday, July 21, 2011