Jesus Christ Superstar
By Andrew Lloyd Webber and Tim Rice. Ashfield Musical Society. Concord RSL. Nov 2 – 11, 2012.
Did you first experience Jesus Christ Superstar in the 1970s as a rock concept album or a large-scale, spectacular rock opera?
Well, it also works as a relatively intimate piece (I'd only previously seen amateur productions in large venues).
Director Dennis Clements' simple set, using gleaming tubular construction scaffolding, creates effective levels and entrances on a very tight stage, keeping props to a minimum.
Cameron Anderson's Jesus anchors the show capably, with his moving Gethsemane a highlight; Whitney Erickson (Mary) has a rich soprano voice, delivering the show's main pop hit 'I Don't Know How to Love Him' impressively; James Jonathon utterly nails the distinctive basso-profundo notes of high priest Caiaphas (in a strong quartet of priests); director Clements gives a credible portrayal of Roman governor Pontius Pilate, while Bob Chard leads a new underwater variation on Herod's vaudeville song, more King Neptune than King Herod, surrounded by a flipper-flapping dance-line of snorkelers.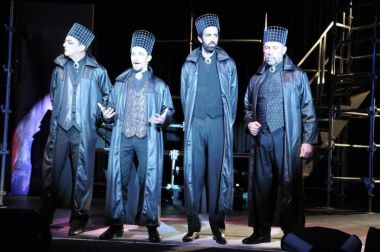 Surprisingly, Rajah Selvarajahas's interpretation of Judas is physically and emotionally restrained, while his voice is more musical theatre than the driving rock sound usually associated with the role.
Particularly effective among the ensemble numbers are Hosanna, with its use of wave cloths, and the scene where Jesus is confronted by the beggars and cripples. The scene in the temple, however, needed more dramatization to its choreography. Attractive costuming gives the production a distinctly hippy 1960s feel.
The hanging of Judas was not convincing. Despite restrictive stage facilities, surely something more inventive was possible. The crucifixion, using a cross, present throughout the show though unobserved, emerging from the scaffolding, was, by contrast, quite striking.
Alan Steadman's orchestra, off to one side of the auditorium, effectively recaptures the score's familiar instrumentals. Mid-auditorium, what you sense may have been a challenging sound balance, works effectively.
This Superstar works effectively on a scale more reminiscent of its contemporary, soft rock biblical musical Godspell.
Neil Litchfield