Jesus Christ Superstar
Music: Andrew Lloyd Webber. Libretto: Tim Rice. Gateway Theatre Productions Director: Thomas Armstrong-Robley. Musical Director: Lucas D. Lynch. Choreographer: Maureen Bowra. The Events Centre, Caloundra, Qld. 27 Oct – 5 Nov 2016
X Factor Season 2 winner Altiyan Childs and The Voice Grand Finalist Frank Lakoudis added mega-watt star-power to Gateway Theatre's inaugural Sunshine Coast production of Jesus Christ Superstar.
Making his stage debut as Jesus, Childs' charismatic vocals lifted the production whenever he was on stage proving as a performer he has a lot to offer musical theatre. It was a rock star performance of a rock star role, raw, gusty, and searing with emotion. Even if "Gethesmane" was a bit over-blown with histrionics it was still incredibly effective.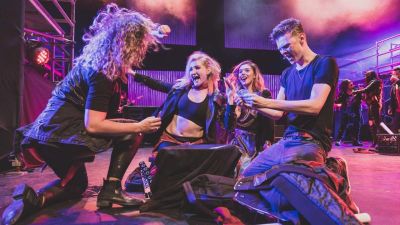 Matching Childs in vocal intensity was Lakoudis, another stage virgin, as Judas. From his blistering take of "Heaven on Their Minds" to his death he conveyed the arc of the character with powerful colour.
Emma Beau, another cross-over from the pop world, was a magnetic Mary Magdelene, bringing just the right amount of sweetness and pop inflection to "I don't know how to Love Him" and "Could We Start Again Please?"
Lionel Theunissen's Pontius Pilate had authority stamped all over him and sang magnificently, likewise Simon Russell-Baker's Caiphas. King Herod's song was done as a robotic dance video-clip with Dale Pengelly in a wheelchair, dressed in a white doctor's coat, assisted by three white mini-skirted nurses. It was the highlight of Maureen Bowra's choreography. The concept was original, the execution spot-on, and it was totally in keeping with the whole pop sensibility of director Thomas Armstrong-Robley's production.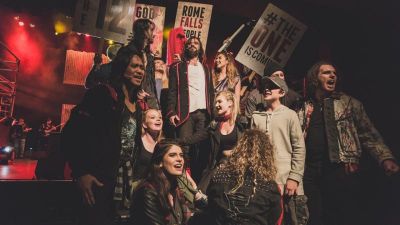 Monique Gavioli's costumes were of the street-grunge variety, a mixture of black jeans, T-shirts, leather jackets and chains, whilst the sets used scaffolding, panels of corrugated iron, milk crates and lots of dry-ice.
David Cartledge's sound, high on reverb, sometimes worked and at others swamped the vocals, whilst Lucas D. Lynch on keyboard led an eleven-piece band that punched out Lloyd Webber's classic score with gusto.
Producers, Tracey Ferguson and Paul Lynch are to be congratulated on achieving a seriously high pro-am standard with their initial first production - it augers well for the future.
Peter Pinne