Jesus Wants Me for a Sunbeam
Adapted by Steve Rodgers from the novella by Peter Goldsworthy. National Theatre of Parramatta. Riverside Theatres Parramatta. October 18- 27, 2018
Playwright Steve Rodgers, who adapted this story by Peter Goldsworthy for the stage, says this play "is about love and grief". Director Darren Yap describes it as a "deeply moving story … full of pain and full of love, where family is everything." It is all of this – and more – and, as such, it is a play that requires tenderness and understanding, sensitivity and compassion.
Rodgers met this requirement in his loving treatment of the story and the characters who tell it. Yap meets it with delicate perception in his direction. The cast bring it gently and intuitively to life. It is a touching, true-to-life production that demands an emotional commitment that is not usually expected from live theatre.
To say too much about the plot would be unfair to those who have worked so intensely to bring it to the stage. It is important, though, to say it is confronting in its intensity, challenging in its complexity.
Emma Jackson and Justin Smith play Linda and Rick, whose love for each other is only transcended by their love of their children – Ben, played by Liam Lunan, and Emma (Wol) played by Grace Truman, star of the web series Amazing Grace – around whom they try to create a cocoon of love to protect them from the harms of the world. Unfortunately, Fate intervenes …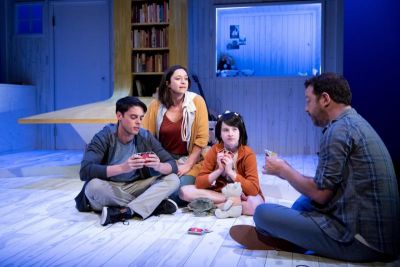 Both Jackson and Smith are compellingly authentic – in the brief but very poignant opening scene where they first realise the depth of their love – then as that love grows to envelop their children. Both find the emotional strength and complexity of these multi-faceted characters that Rodgers has shaped through sparse dialogue that suggests so much. These are not easy characters to play, but they so with deep insight and empathy.
Grace Truman brings surprising depth and awareness to the role of 'Wol'. It is not an easy role and one not many aspiring young actors could portray with such touching and convincing belief.
The character of Ben demands enormous emotional control on many levels – and Liam Lunan moves along that spectrum in a performance that is evocative and deeply moving. His command of how much to show, how far to go, is indicative of careful character development and judicially guided direction.
Valerie Bader and Mark Lee play the four people closest to the family.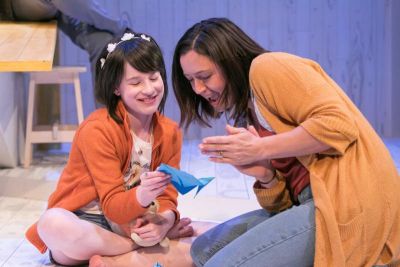 As Linda's mother, Bader is kind, a loving grandmother, who is not always able to 'bite her tongue' about the way the children are being raised. She also plays Dr Eve, who guides the family through a harrowing time. Bader brings her usual commitment and depth of experience to both of these different but singular roles.
Lee plays Linda's father. He too is loving, and indulgent, even though he does upset Linda by his smoking. Lee also plays a priest who has become a family friend. Though different, these men are both kind and understanding, and Lee differentiates them by stressing the warm-heartedness of the one – and the earnestness of the other.
Under Yap's delicate, insightful direction, this closely bound cast brings Rodgers' confronting but beautiful play into intense reality – one which Rodgers' says "made me question life's great balancing act – how tightly do we hold on to each other and how hard it is to let go."
Carol Wimmer
Images: Noni Carroll Photography