Jim Morrison: Kaleidoscope
Written and performed by Luigi Lucente. Directed by Nicholas Christo. 45 Downstairs, Melbourne. Jan 21 – 25, 2014.
Luigi Lucente…if you don't know that name then make a note of it. Lucente is a MAJOR (in capitals) world class performer who never fails to delight; whether it's as the lead in a musical (Pippin, Parade) or, currently, in cabaret with a show devised and written by himself.
The subject is Jim Morrison – eclectic, and some would say tragic, lead singer of The Doors who died in 1971 of a drug overdose. But it's not the history of Morrison's life that interests Lucente; this is an introspective rather than a retrospective. Lucente, himself charismatic, intense, with brooding good looks, get inside Morrison's mind to give us insights into what was going on internally in one of rock's most iconic "Gods" – The Lizard King.
Superbly accompanying himself on piano…sometimes crashing, angry and threatening, at others, soft and vulnerable, his voice no more than a whisper to the tinkling of bell-like notes, we can almost feel the drug filled haze around the tortured Morrison's life.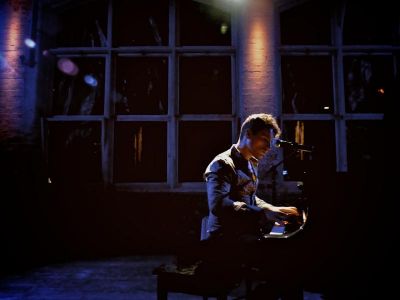 It's not in any form an impersonation of the singer, but rather an artistic expression of the undoubted poetry in Morrison's persona. Lucente's overall musicality is flawless; he knows when to pull out all the stops with his huge vocal range, and when to caress and seduce us. In both cases he raises goosebumps and is mesmerising. Lucente is an artist in every sense and Morrison would have killed for the chance to sing one tenth as well. But there's the added element of his acting. Lucente has proven in the past what a fine actor he is, and he brings all of that to bear in this show….the quick temper, the romanticism, the arrogance, the vulnerability which all make Morrison such an interesting character.
All of the songs and writings are there, as fans of Morrison would expect, but many are given a totally different twist; 'Riders on the Storm', 'Touch Me', 'Love Her Madly', 'Light My Fire', and two exquiste medleys that the writer calls Love Opuses. Then he kills the lights with an outburst at the technician, and sings 'The End' in total darkness. If that doesn't raise the hackles on the back of your neck, nothing will. Nicholas Christo has clearly tempered this performance to get the balance just right and the lighting design by Rob Sowinski is marvellously atmospheric.
There are a couple of spooky coincidences; Lucente is 27, the age Morrison was when he died, and Morrison was born in Melbourne….albeit the Melbourne in Florida.
This is cabaret of the highest order, and you certainly don't need to be a Doors fan to enjoy it (though it certainly would be a bonus). Just go to see an astonishing Australian talent at work before the rest of the world steals him from us.
Coral Drouyn
Photographer: Nicholas Christo.