John Barrowman in Concert
Concert Hall, Queensland Performing Arts Centre (QPAC), 21 September 2019.
Sometimes the stars align and a magical night ensues. John Barrowman's exclusive one-night-only performance in Brisbane at QPAC coincided with Brisbane Pride and the Oz Comic-Con. This made for an extra special audience mix who, as Barrowman said, simply 'get it' – or, to misquote Tim Rice, 'they know him so well'. There was an instant energy in the room from the opening bars of Kool and the Gang's 'Celebrate' to the closing ovation for La Cage Aux Folles' 'I am what I am.' Of course, that is mainly due to the stagecraft and experience of Mr Barrowman, who bravely calls his two-hour show 'Fabulous!' – in this case, that claim lives up to every syllable.
Celebrating an incredible 30 years of entertaining, the show is part cabaret, part memoir – mixing comedy with torch songs, anecdotes and good old-fashioned variety. John Barrowman has quite the repertoire to choose from. To explain the breadth of his entertainment experience, it would be easier to list the work he HASN'T done. His CV covers everything from children's TV to game shows, soapies and pantos to the West End musicals that he is best known for – although there were an awful lot of Doctor Who/Torchwood fans in the crowd (toddlers to teens and grannies too) who seem very happy to see their 'Captain Jack' belt out a show tune or two.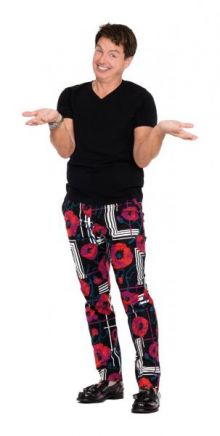 And when it comes to songs, Barrowman proves his range. He can tackle anything – from Manilow ('I made it through the rain') to Barlow ('What about us'), Sondheim to Schwartz – 'The Doctor and I' – adapted from the Wicked soundtrack is a particular crowd-pleaser. His classic ballads – 'A thousand years' from the Twilight saga and Karla Bonoff's 'Goodbye my Friend', (dedicated to pets worldwide) – are heartfelt and soulful, played alongside cheeky Tom Jones and 80s pop covers. In between numbers, there is a very entertaining slideshow, highlighting career milestones (including a recent gig with a Queensland connection: filming ITV's 'I'm a Celebrity, Get Me Out of Here' at the Gold Coast, a feat that has relaunched his TV career in the UK). Also featured are his mum and dad, his sister (who he somehow finds time to write novels with), his rescue pooches and of course, his husband, Scott. The audience went through the roof when Scott took to the stage and sang 'Quando, Quando, Quando' karaoke style. It was a hit. There was even time for an audience Q&A.
Barrowman has an enthusiasm for music and life and he takes his fans along for the ride. Sure, at times it feels like those 'Disco fries' might have been served with 'extra cheese' – but, as Barrowman says, he performs is own way and he won't be told what to do – he simply is what he is (cue the encore!) take it or leave it. The pay-off is that you feel you have shared a glimpse into a very special talent and been part of a wonderful career. Will Brisbane be lucky enough to see his Starina in La Cage? Tantalizing. Or his Christmas show later this year? Well, if we don't ask, we don't get – so let's hope Mr Barrowman remembers Brisbane's enthusiasm and energy and we see him – and his superb musical director, Matthew Brind – again soon.
Beth Keehn
Photos by Schwabel