Joseph and the Amazing Technicolour Dreamcoat.
Music by Andrew Lloyd Webber. Lyrics by Tim Rice. Directed by Robert Coates. Young Australian Broadway Chorus. Beckett Theatre, Malthouse. Jan 22nd to Feb 1st, 2014. Also at Adelaide Fringe Festival from March 11-15, 2014 at the Odeon Theatre.
It really doesn't matter what this review says, because the entire season is already sold out. Yes, every seat for every performance. So I can be totally honest and say…. "And so they should be, the production is a triumph for everyone involved."
The first show of the huge portfolio of Webber/Rice hits, the show has a naivety and simplicity that is quite charming, and this production plays to those qualities at the same time as showcasing the sophistication of the astonishing costumes, band, lighting and direction.
YABC is a teaching academy, and the cast is made up of students, but nothing is lost in terms of quality or professionalism. The band, also students (with some doubling roles on stage) is excellent by any standard, and that's so vital when presenting a sung-through musical.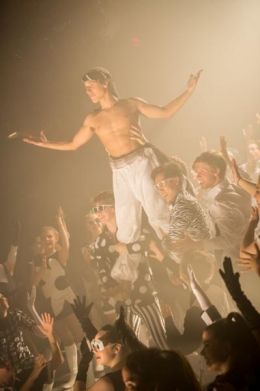 I have to say I don't think I have ever seen such an astonishing array of costumes, all superbly designed and made, in any production anywhere. The monochrome pallette and sharp angles are the vision of Robert Coates (Director) and costume designer Jennifer McKenzie. They don't just borrow from Egyptian traditional designs but incorporate 1920s flapper style dresses plus an homage to the 70s with a fabulous Elvis outfit and a full set of frug costumes. It's all simply marvellous, set on a black and white chequerboard tiered stage. The Technicolour coat itself is quite beautiful. There are 84 cast members and several costume changes, so the mind boggles at the making and co-ordinating. This is "Wardrobe" of the highest order and even the most expensive of our main stage productions should take note of how beautifully this production is mounted.
There are excellent performances throughout with clear diction and great harmonies. There were sound level glitches for about the first half hour of the preview show, and so several voices were lost for a few seconds at a time. But this was quickly corrected.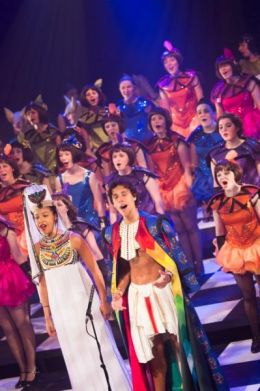 As the Narrator (and also on guitar), the astonishingly beautiful Vivienne Awosoga brought grace and elegance along with her pretty voice to the role.
David Duketis looks perfect as Joseph. He's a commanding and athletic presence on stage and will be even more impressive when his voice matures a little more.
Adrian Agisilaou impressed as the Elvis Pharoah and on keyboards and special mention must go to Charles Russell, full of wit and confidence worthy of any production, and William Barker, as Gad, who is equally impressive.
The rest of the principal cast excel and the ensemble, especially the children's chorus, are truly professional throughout.
Jacqui Green's choreography was perfectly executed and inspired in light of the limitations of the space. Robert Coates has outdone himself…and that's saying something – with his blocking and handling the emotional elements of the performances. Andy Coates has clearly worked hard with the band to produce the results he has and Linda Hum's lighting design is beautiful.
I'm truly sorry that, because of the sold-out status, the reader won't be able to see this terrific production, but I'm awfully glad I was there. Awesome.
Coral Drouyn