Josephine Wants to Dance
Adapted by Eva Di Cesare, Sandra Eldridge and Tim McGarry, from the book by Jackie French. Music and lyrics by Phil Scott. monkey baa theatre company. Lendlease Darling Quarter Theatre, Sydney. April 14 – 24, 2018
This delightful adaptation, by monkey baa's Eva Di Cesare, Sandra Eldridge and Tim McGarry, entertains children and adults alike. It's fun, lively and realises the deeper message to kids in Jackie French's story … that if you really believe in yourself, your dreams can come true.
With music and lyrics by Phil Scott, set and costume design by James Browne and direction by Jonathan Biggins, they lift the story of Josephine, a kangaroo who yearns to dance, from the pages of French's words and Bruce Whatley's illustrations into a new, colourful, funny, third dimension. This is a joyful production performed by four multi-talented performers who act and dance as well as moving sets and making complex costume changes very quickly.
Browne's set, a series of triangular flats built on a series of revolves, begins in the eucalyptus bush around Shaggy Gully. Tree trunks on a cleverly lit scrim reach up to a canopy of leaves for the first scenes, then turn to become the stage of the local Arts Council hall, and turn again to become the set for Swan Lake. It's intriguing – and very cleverly designed – as are the costumes.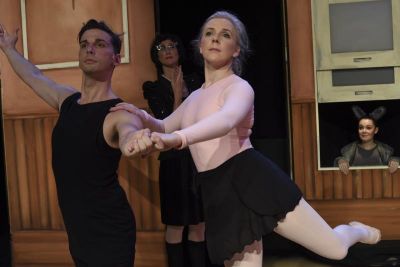 The kangaroos' costumes are based on furry, grey plush fabric. With cute plush boleros over shiny grey leotards, bouncy tails swinging behind baggy, jodhpur-style pants, and grey plush ears on head bands keeping them alert, they dance in grey Ugh Boots, as Josephine (Rebecca Hetherington) introduces herself: "I'm Josephine, I'm ten plus two …".
Despite the logical entreaties of her brother, Joey (Hayden Rodgers), Josephine refuses to graze with the mob and keeps practising her dance steps. Enter the brolgas (Chloe Dallimore and Hayden Rodgers) who Browne has dressed in shiny white leotards and lots of white feathers. Their pas de deux is a clever mix of movement and innuendo, which Josephine watches in awe while adults in the audience smile wryly. When Josephine begs them to teach her to dance, their original reluctance is overcome and they are impressed with her efforts; "Quite brolgary in a kangaroo kind of way".
Then come the lyrebirds. Here James Browne has a design ball! They are a glittering, glitzy aura of shiny black and gold sequins and fringes, with golden cut-out harp-shaped tail feathers shimmering high behind them. Dallimore and Amanda Laing preen and pose in a shiny pas de deux filled with mimicry and symmetry. They copy every sound in their "inclination for imitation" and happily teach Josephine some more leaps and poses.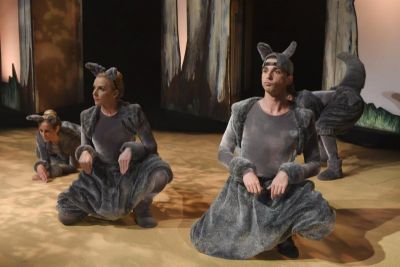 After a quick change Laing returns as Big Annie, to put up the posters for the 'City Ballet' production of Swan Lake (proudly sponsored by Shaggy Gully Arts Council). Laing gets lots of laughs as she complains about the 'requests' of the touring company for separate dressing rooms (they've got the kitchen) and bottled water (What's wrong tap water?).
As the set revolves to become the stage of the Arts Council, Dallimore re-appears as ballet director Madame Katerina Baroninski Gavriova. A vision first in black and yellow spots, later in shiny black mini-skirt, with black knee highs and black patent stillettos, she typifies the 'story book' directeur, a posturing piece of stereotypic pretentiousness which she obviously relishes.
When Prima Ballerina (Laing) twists her ankle, Josephine gets the main 'gig' as Odette and dances with Prince Seigfried (Rodgers) to the strains of The Dying Swan in a cute piece of choreography that brings the ballet and the play to a happy end.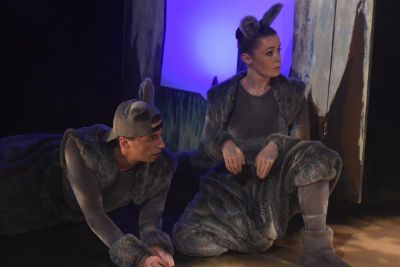 Choreographer Tim Harbour must have had so much fun with the quirky tunes Phil Scott composed and adapted. My grandsons loved Joey's rappy hip hop, with hishopping, jumping … heats go thumping, as much as the little ballet dancers in the audience loved the jazzy ballet.
This adaptation has all the originality and appeal of other monkey baa productions – with an added aspirational message. As Jonathan Biggins says in his notes: "At a time when we're embracing diversity, difference and tolerance, and recognising that talent comes in all shapes and sizes, why not have a gifted kangaroo playing a dying swan? When you think about it, it makes about as much sense as a human being attempting it!"
Carol Wimmer
Photographer: Heidrun Lohr