Jumpers For Goalposts
By Tom Wells. New Theatre, Newtown (NSW). Feb 7 – Mar 4, 2023.
Tom Wells' charming English play about a hopeless gay soccer team trying to get off the ground in Hull is a winner for the New Theatre. Even for this small-time league, with just five amateur players, a team called Barely Athletic looks doomed against the Lesbian Rovers, and even the Drags – and they play in stilettos.
It's how their lives are revealed off-field in the dressing room that matters, inside Tom Bannerman's nicely rundown council facility, angled to the audience with just enough space for director Alice Livingstone to keep the action moving.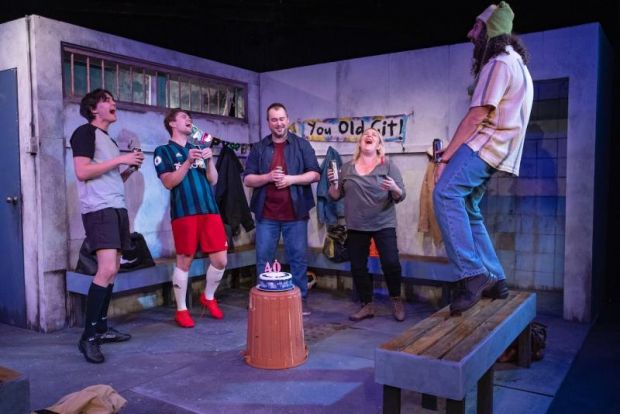 Emma Louise delivers as the exasperated coach, swinging between big heartedness and big bully, while Nick Curnow resonates deeply as the "token straight", now overweight and grieving for his dead wife, Viv's own sister.
Jared Stephenson lifts the warmth and laughter as the bohemian busker Beardy who has a sexual thing for the blokes on competing teams. Beardy has been gay bashed earlier and, even on field, wears a funny beanie as security, but otherwise there are no big identity themes or challenges here.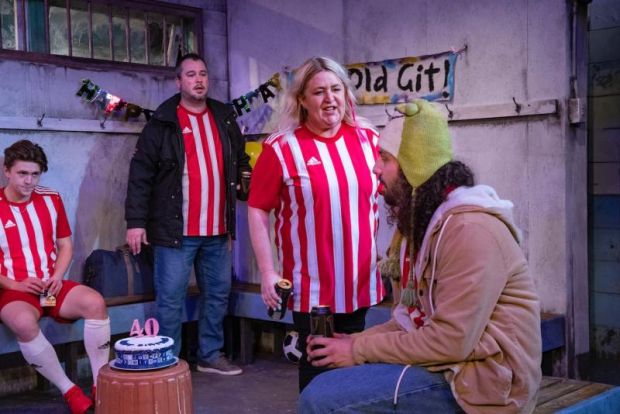 The play's tone is sweetly set by Danny (Isaac Broadbent) and his huge crush on Luke (Sam Martin), a shy gay 19-year-old who admits his minimal life experience but writes it up anyway in his diary. Danny's dark secret is predictable and the happy bow resolution is near sentimental, but these performers bring an endearing truth to their puppy love.
This is a play about ordinary people seeking a way through local lives, queer or otherwise, and more by quiet emotional tugs than with laughter. The distinctive Hull accent is competently held by all players but it sometimes fogs the meaning and comic beats of the dialogue. The New's lighting (Mehran Morteza) is here unusually warm and focused, aided by the confinement of space, and Bella Rose Saltearn's local wear seems perfectly Hull appropriate.
Martin Portus
Photographer: Bob Seary