Kafka's Ape
Adelaide Fringe. Holden Street Theatres, Adelaide. 25 February – 15 March 2020
"Experience is not what happens to you; it's what you do with what happens to you." When Red Peter delivers this Aldous Huxley quote, we're already uneasy in our seats, disturbed emotionally and physically – and wondering what we're going to do with this experience.
Based on a Franz Kafka short story, this solo performance from South African Tony Bonani Miyambo is delivered as a speech to an Academy, of which we are the esteemed members. As Red Peter, Miyambo tells us of his previous life as an ape, and how he changed to become human – not for freedom, only to have a way out.
From the first grunts and shuffles in the darkness, Miyambo brings an utterly convincing physicality to Red Peter: he lopes hunched on his toes, his arms reaching, testing the lectern before using it to swing his body upright. He smells, sneezes, scratches and stares as an ape – then articulates his words as an educated man. Using Kafka's language and his own primate embodiment, Miyambo brings us to the hunt that captured him, then we're feeling his anguish and pain in all our senses as he's trapped in a crate. As the story unfolds, the hunch straightens, the scratches less distracting, yet not without the memory-induced terrors unleashed in his primate form – Red Peter's screams from torture are still echoing.
There's an unsaid parallel with stories from South African apartheid – and racism that still pervades Australia – but the sinister is carefully balanced with humour: even to improvise around the handful of latecomers to his speech.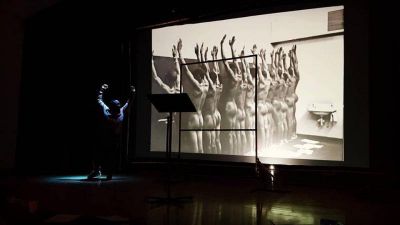 The stage is sparse – a lectern, a poster for the conference where Red Peter is speaking – and the lighting is magnificent: guiding us emotionally as well as physically, experiencing Red Peter's humanity in the bright spotlight; his primal screams in the darkness.
Our discomfort is real – not just because of what we see and hear, but because of our increasing awareness of our own part in the stories of Red Peter and others like him.
Miyambo has brought to Adelaide a brilliant piece of solo theatre that stimulates and disturbs, entertains and challenges. The sights and sounds of Red Peter will be in your head for a long time.
Mark Wickett