The Kaye Hole
Reuben Kaye and guests. Cremorne Theatre, Queensland Performing Arts Centre (QPAC), Brisbane. 6 January to 12 February 2022
How do you describe Reuben Kaye? A cabaret MC extraordinaire dressed in a skimpy industrial-strength mini, with a black bin-liner cape and platform boots – get the picture? A diva alliance between the wink of Liza Minnelli's false eye lashes and the smirk of Rocky Horror's Frank-N-Furter. Clearer? The voice of rock royalty and street smarts of your favourite Jewish comedian? Throw in a bunch of cutting-edge cabaret artists and a backing band dubbed 'The Preferred Pronouns' and I'm sure you'll agree that it's going to be easier for you to simply go out and experience this act first-hand.
Cabaret at the Cremorne is perfect – with its bar and cocktail table set-up, it's socially distanced and relaxed. I'm sure it's not the capacity that Reuben and his friends are used to performing to (awards and accolades include the UK Burlesque Awards, Melbourne International Comedy Festival, Adelaide Fringe, Edinburgh Festival, Green Room Awards) but it's audience quality not quantity and, for a 4pm gig, the happy crowd assembled were ready for some burlesque and banter to take their troubles away. With the Kaye Hole a self-proclaimed safe space to relax and be yourself, we were in very adept hands. From his opening number, Courtney Love's 'Celebrity Skin', to his final number accompanying the stunning and awe-inspiring fire-eating erotic dancer, Jacqueline Furey, Reuben is high-octane energy and entertainment.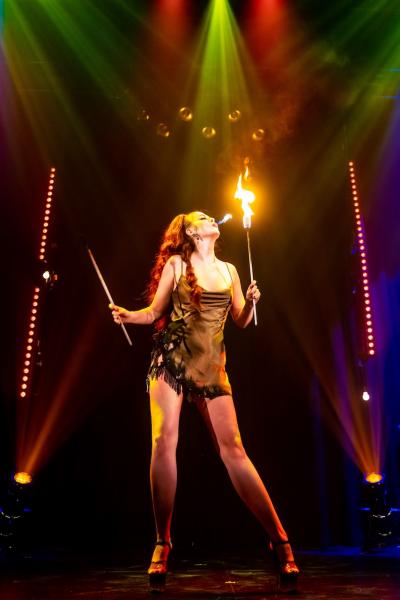 Image: Jacqueline Furey
The first showcase act was pole dancer, Charlie Love, whose dream sequence routine in high heels as he wakes up to the Wiggles' classic 'Wake up Jeff' is a suitably cheeky ice-breaker.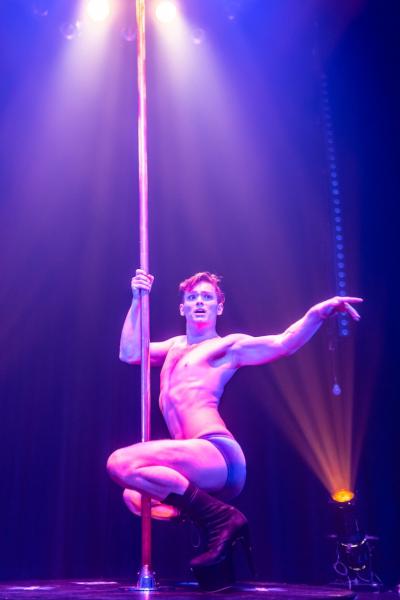 Image: Charlie Love.
Beatbox artist, Hope One – currently the only professional Maori beatboxer – drew a standing ovation with her energetic piece challenging colonisation and its mantra 'Just Breathe'.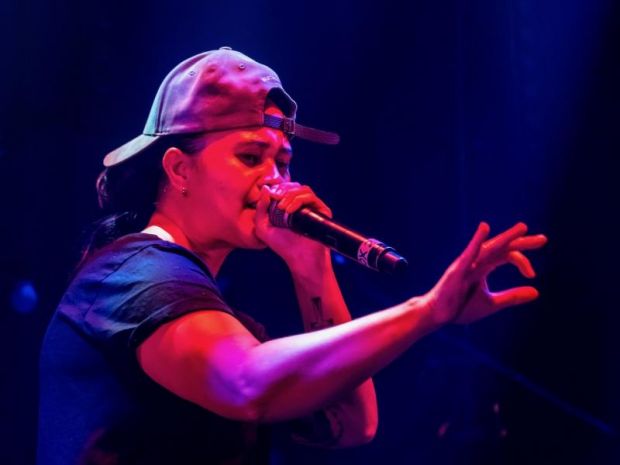 Image: Hope One
Reuben praised Brisbane's thriving creative scene and the proof was presented in locally based aerialist Ashleigh Roper who amazes with her high-flying performance, and self-proclaimed psycho-siren Leah Shelton (also co-director of Brisbane's Polytoxic) who performs an extremely funny striptease as a plastic sex doll.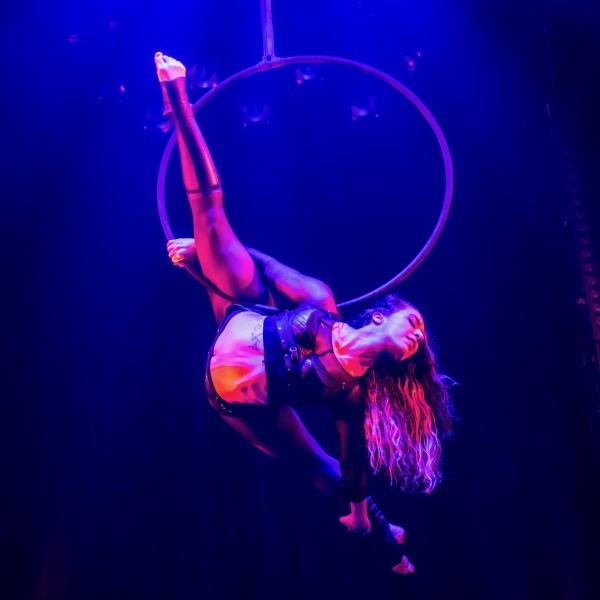 Image: Ashleigh Roper
Paving the way for the finale is Tina Del Twist, diva a la dive who transcends her chanteuse lush de lounge image with a spectacular jazz voice (even though the QPAC team had to keep up her quota of G&Ts and she did fall asleep briefly between drinks in a crucial bar of Nat King Cole's 'Nature Boy'). All is forgiven Tina for your fabulous rendition of Jefferson Airplane's 'White Rabbit' with The Preferred Pronouns.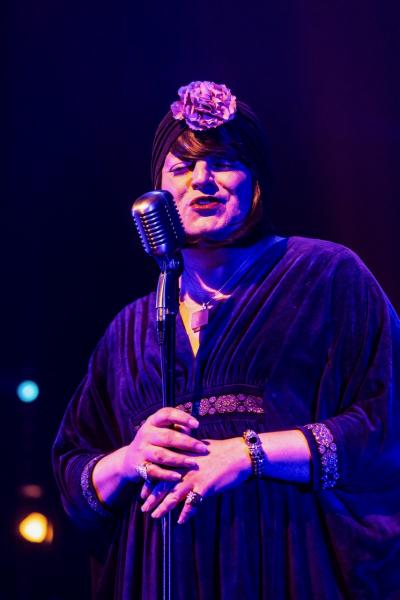 Image: Tina Del Twist
Of course, holding the show together is the warm and welcoming Reuben, but with barbs as sharp as his cable-tie boa.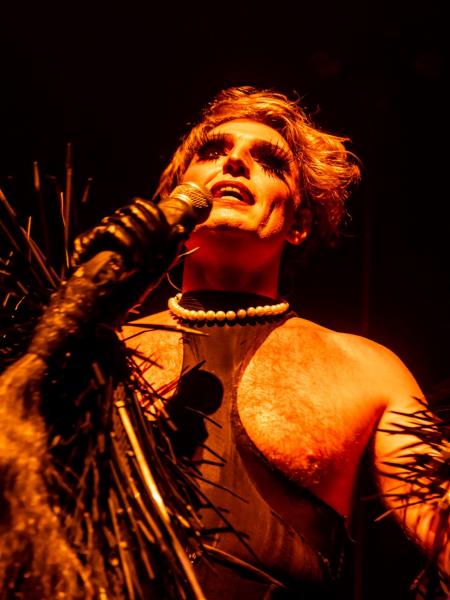 Image: Reuben Kaye
His comedy schtick reveals his thoughts on many taboo subjects, including politics, religion, sexuality, support for the arts, and the current Covid chaos: "It's like we ordered the last two years from Wish! What did we do to deserve it?" and the ensuing tirade of truths is a totally unique comic classic, including "... we ruined the planet ... dispossessed, imprisoned and slaughtered First Nations people ... enforced gender stereotypes... sold our water table to the Chinese..." I think the only item missing was maybe a top one percent super-rich allowing people at the pointy end to live in abject poverty. But, as Reuben says, "It's just a theory!" As he also suggests, this is the sort of show you could come back to again and again, bringing different friends each time, or someone who need loosening up, or just when you need a feel-good fix from world-renowned performers in an intimate cabaret space – it's an absolute hoot!
Beth Keehn
Photographer: Darren Thomas