Keep Smiling! The Housewife's Guide
The Colour Blind Project. Bondi Pavillion. May 1 – 19, 2012
It's the 1960's, the Vietnam War is upon us and any housewife worth her weight looks perfect, sounds perfect and cooks perfectly!
Keep Smiling! The Housewife's Guide is a kitsch, melodramatic piece, showcasing a snapshot into the life and times of six middle class women in Australia. Daniel Alleck's set is fantastic and absolutely ideal for the mood, the period and the pavilion space.
Characters including Mrs Practical and True, Mrs So and So, and Mrs Making-Ends-Meet all get together for their regular choir practice, cups of tea and gossip. Over the course of the play we discover that things aren't always what they seem and behind the veneer the harsh reality of life lurks.
The Colour Blind Project headed up by two of the creator/actors Josipa Draisma and Stephanie Son aim to deliver work that challenges stereotypes and has a mission to create work that is culturally inclusive and diverse.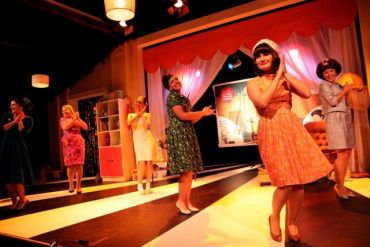 I really liked the approach, the idea and the overall creation of the piece however some scenes seemed less polished than others, there were some moments of stalling on lines and some of the direction seemed a bit unsophisticated for this kind of work.
The stand out performer was Carla Nirella who played a strong Mrs Worldly of Great Estates, never dropping character and consistently delivering with wit, charm and a stab of harsh, Nirella was ideally cast for this part. The other performance to mention was Alyssan Russell who played Mrs Practical and True, Russell delivered a charismatic performance with a lot of gravity to her delivery, Russell is able to express subtle subtext through her physical movement and facial expressions and it's obvious she is a seasoned artist.
At times I thought this piece was trying to be a musical and at other times I thought it was trying to say something about the fraught insecurity of these women in Australia in this time period. I felt the piece had some aspects to it regarding the writing that needing some further work shopping but all in all this was a fun, entertaining night out that will have you really laughing at times and if you loved Mad Men with all its glamour, hair do's and airs and graces you'll love this!
Emma Bell
Photographer: Liam O'Keefe