Key For Two
By John Chapman and Dave Freeman. Marloo Theatre, Greenmount (WA). Director: Andrew Warwick. Feb 1-23, 2013.
I'm not usually a huge fan of English farce, but tightly directed and well acted they can be a pleasure to watch. Darlington Theatre Players' Key For Two was delightful.
A kept woman tries to keep her two married lovers unknown to each other, which leads to a series of pretences, mistaken identities and misunderstandings.
Well paced and energetically played, the cast worked well as a team. Siobhan Vincent was solid and likeable in the central role of Harriet, while her very different married lovers were well inhabited by Joe Isaia and Keith Scrivens.
Harriet's madcap friend was delightfully played by an exuberant Krysia Wiecheki, working well with uptight onstage husband Rodney Van Gronigen.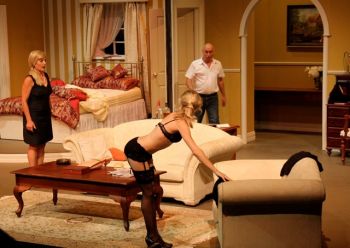 In smaller roles, the wronged wives were played with robust comedy by Michele Acott and Kerry Goode, both swiftly establishing strong characters.
George Boyd's set design was excellent, with dressing by Gail Palmer and Genevieve Hartney adding ring of truth detail.
Director Andrew Warwick steered a tight, but thoroughly entertaining ship.
Kimberley Shaw
Images: (top) Keith Scrivens, Joe Isaia, Siobhan Vincent and Krysia Wiechecki & (lower) Siobhan Vincent, Krysia Wiecheki and Keith Scrivens. Photographer: Michael Hart