King Arthur and the Tales of Camelot
Ballet by Francois Klaus. Synopsis Development: Francois Klaus, David Walters, Robyn White. Text: Helen Howard. Musical Director & Arranger: Craig Allister Young. Queensland Ballet @ Playhouse, QPAC, 15 – 29 October, 2011.
Arthur, Guinevere and Lancelot's love for each other is one of the world's greatest love stories, but this new ballet version of the tale created by Francois Klaus is not one of the world's greatest ballets. Saddled with dull, clichéd and dated choreography, the talented young company had difficulty in rising above it. It was very episodic and disjointed, not helped by a grab-bag of a musical score that used a lot of French themes by Gabriel Faure, and even found room for of all things "Claire de Lune." The first act had a sequence that sounded Eastern European Jewish a-la Fiddler on the Roof, and the second, a dance that was definitely West Side Story influenced. But Klaus is no Jerome Robbins. More's the pity.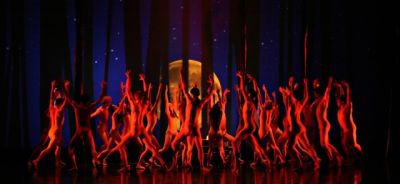 Dan Crestini, as the narrator, Merlin did a sterling job with his role, written in rhyming couplets, and Keian Langdon had the right physique to play an imposing Arthur, with Rachael Walsh as a pretty and virginal Guinevere. Best thing about the night was the Queensland Symphony Orchestra, with Craig Allister Young leading on cello. Their sound was exquisite. Bruce McKinven's design, Noelene Hill's costumes, and David Walters lighting helped elevate the production but no one could disguise the poor choreography. We deserve better from this heavily subsidized state company.
Peter Pinne
Photographer: Ken Sparrow
To keep up with the latest news and reviews at Stage Whispers, click here to like us on Facebook, or follow us on Twitter.