King Lear
By William Shakespeare. Sydney Theatre Company. Directed by Neil Armfield. Roslyn Packer Theatre. November 28 2015 to January 9, 2016.
We were teased by the pre publicity into thinking that Geoffrey Rush (King Lear) would strip down on stage – revealing his crown jewels in public for the first time since jumping on that trampoline in the movie Shine. It would spoil the experience for me to reveal if this was false advertising or not.
What was naked for the whole production was the stage. First black in the first act. Then a brilliant foggy blinding white in the second, as a metaphor for having everything taken away from you.
Also starkers was Mark Winter as Edgar. He was naked for so long, and so exposed to the rain as he walked and slid (sunny side down) around the stage, that he might be at risk of catching pneumonia (and splinters) during the extended season.It was a brave and convincing spectacle.
There was a modern look to this interpretation.
Robyn Nevin (The Fool) opens proceedings as Marilyn Monroe in the royal court. She was crackingly good throughout and will please more than her performance a few years back as Queen Lear for the Melbourne Theatre Company.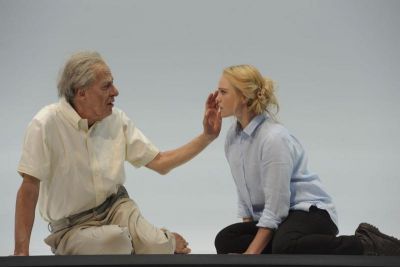 Clearly King Lear loved being flattered. He gives away his kingdom to two undeserving daughters Helen Thomson (Regan) and Helen Buday (Goneril) and banishes Eryn Jean Norvill (Cordelia) because his most beloved daughter declined to shower him with praise.
The two successful daughters were deliciously insincere and had the feel of Cinderella's step sisters.
The blanket black canvass of the first act begun to wear thin, particularly when the sub plots were introduced, which strain the comprehension abilities of members of the audience even if you did study the play with close attention for the HSC as I did (albeit multiple decades ago).
There is relief when one of those lines dutifully memorised are re-heard.
"How sharper than a serpent's tooth it is to have a thankless child!" "Thou shouldst not have been old till thou hadst been wise." "Speak what we feel, not what we ought to say."
We waited with anticipation for the best poetry of the play as Lear rages against the storm.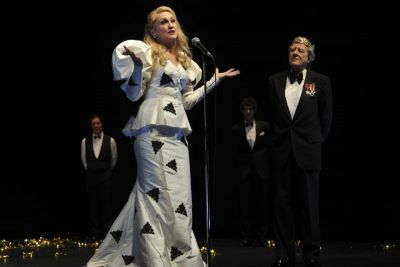 "Blow, winds, and crack your cheeks! Rage! Blow! 
You cataracts and hurricanoes, spout."
Yet instead of allowing the power of the words to dominate undiluted, Neil Armfield almost drowns the cast in wind and water, giving those in the first few rows a light spray for good measure.
It was an impressive spectacle if not a towering moment of drama.
In the second half, with its stark white backdrop, there was a more nuanced performance from Rush. He did not descend slowly into madness, but displayed snatches of it.
There was a playfulness and physical comedy which was spectacular if not utterly heart wrenching. Was the audience moved to tears? Not quite enough to give it a standing ovation on opening night.
There was light and shade too in other cast members. Max Cullen induced pathos as the Earl of Gloucester when the 'foul jelly' of his eyes was squeezed out. But not all of the principals appeared entirely comfortable in their roles.
With its cast and director King Lear looked on paper to be the best play of the year. It did not quite get there.
David Spicer
Images: Geoffrey Rush, Geoffrey Rush and Eryn Jean Norvill, & Helen Thomson and Geoffrey Rush, in Sydney Theatre Company's King Lear. © Heidrun Löhr