Kiss of the Gallery Guard
By Carol Dance. Scene Theatre Sydney. Philharmonia Choirs Hall, Walsh Bay. May 11 – 26, 2018
This delightful little play looks at how our ideas change with age and experience. The fact that it does so through one woman's shifting perceptions of a painting over eleven years, makes it a refreshingly different take on an age-old theme – as does the style of the play. Set on an empty stage, the play takes place is a series of art galleries that have a pianist playing in the foyer. The music (played by Philip Eaves) supports – and transports – the action from Sydney, to London, to New York.
The play centres on Amber, a young country girl, who, desperate to get away from her family, finally scores a job in the city … as an art gallery guard. It's her first time in the city. She knows nothing about art. But she's determined to make good and eager to learn, especially about art, and why one particular painting – The Kiss ­– can be interpreted in different ways by different visitors to the gallery.
Playwright Carol Dance takes Amber beyond youth and curiosity to maturity, romance and a wider perspective of the world of art, including art theft and forgery, but allows her to retain the naïve trust and empathy that defines her character.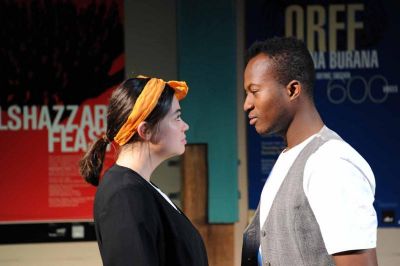 Cara Severino establishes that naivety in a very natural and honest interpretation of Amber. She seems at home in this character, finding the innocent resolve of the young Amber in a guileless acceptance of advice, joy in new-found independence and the exhilaration of new people and experiences. As the character grows and her experience broadens, there is more stability in the portrayal without losing the compassion that is central to the character.
Chloe Schwank plays the women that Amber meets along the way, including a Gallery Director, an art thief, Amber's sister and an old woman who is considering stealing a model ship her husband had bequeathed to the gallery in order to sell it to supplement her small income. Schwank creates each character quickly and effectively, through them exposing Amber's growth in knowledge and confidence.
Jesse Northam and Justin Amankwah came into the production only ten days before opening night following an unlucky accident that forced Eli Saad to withdraw from the production with a fractured foot.Both Northam and Amankwah obviously stepped into the multiple roles Saad was to play with dedicated enthusiasm.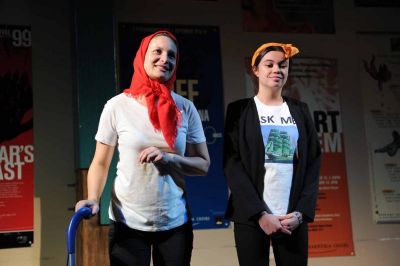 Northam has a good sense of timing, which was particularly evident as gallery instructor, Mr Brown, and the sneaky art thief. Amanhwah is convincingly cerebral as art expert Charles, and charming as Amber's suitor. There is some need, however, to slow down his delivery and raise the volume a little, especially in such a capacious space.
This play succeeds because the style is different, and because Murray Lambert has directed it as Dance has suggested – in an open space with no props other than a bench and the very minimal of costume changes. The onus is on the actors and their interpretation of the playwright's natural, economic dialogue, except perhaps in the final scenes of the play where a little moralising doesn't really 'hang' with the more intrinsic implications of earlier scenes.
It will be interesting to see this play picked up by community theatre companies, especially those who take their productions on tour. It ticks a lot of boxes for actors, directors and audiences.
Carol Wimmer
Photographer: John Leung