Kiss Me, Kate
Book: Samuel and Bella Spewack. Music & Lyrics: Cole Porter. Diamond Valley Singers (Vic). Director: Lisa Inman. Assistant Director: Jean Russell. Choreographer: Heather Wright. Producer and Musical Director: Ian Lowe. July 8 - July 16, 2011
Last Friday night Diamond Valley Singers brushed up their Shakespeare in opening Cole Porter's Kiss Me, Kateat Warrandyte High School theatre. Though some opening night nerves were evident with some musically sticky spots and a well-covered but undeniably missed entrance, the show proved to be a fun night overall.
The stand-out performances of the night, with sure singing and acting, were Meg Warren as Lilli/Katherine and Deborah Uselioates as Lois/Bianca. Warren adeptly navigated Lilli's complex personality, and thus she was petulant, yet tender. Uselioates was equally skilful as the vulnerable but sizzling Lois. Malcolm Wilton's General Howell, having an attachment to both these ladies, definitely showed that though he believed in rigidly staying on the straight and narrow he was still susceptible to feminine wiles.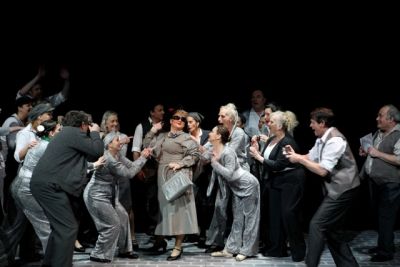 Alan Flint struggled at times with the big sing that is Fred/Petruchio. However, his characterisation was sure and he and Warren had a good dynamic that was heartfelt, brimming with frustration, and never left us in any doubt of Fred's Lilli-inflicted cracked ribs.
Particular mention should be made of the wonderful double-act of Adrian De Leonardis and Noel Rawson as the two Gangsters. Between them they easily performed the delicate balancing act between menacing, bumbling and loveable.
The set and costumes in this play-within-a-play exemplified the dual time period required, with a vintage tang in 1940s Baltimore and a colourful Shakespearian Padua.
Jess Heard
Photographer: Lesley Walton.
To keep up with the latest news and reviews, visit Stage Whispers on Facebook and click like, or follow us on Twitter.