Kiss of The Spider Woman
Written by Manuel Puig. Translated by Allan Baker. Directed by Chris Baldock. Mockingbird Theatre. The Owl and the Pussycat (Richmond, Vic). Sept 6 – 15, 2013.
No matter how much you talk about the William Hurt – Raul Julia movie; or the somewhat bizarre re-imagining as a musical; or the political climate in Argentina in the 50s, Manuel Puig's delicate play, from his own novel, is essentially a poignant love story.
It's also a tour de force for two actors, and therein lies its strength. Molina, an openly gay man (though he claims, with dignity, that he is a woman) guilty of indecent behaviour, shares a prison cell with Valentin, a revolutionary who must pass information to rebel troops on the outside. Meanwhile Molina entertains Valentin with stories of a B grade movie that Valentin hasn't seen. There's a plot, of sorts, which happens offstage, where the warden provides Molina with food and treats in exchange for getting information from Valentin, but it really doesn't matter ---the journey is between these two men in a tiny cell as the relationship moves from suspicion to compassion, to understanding and, ultimately, to love. Baldock's use of music is marvellously atmospheric and the set, designed by Baldock and realised by Merinda Backway, works perfectly.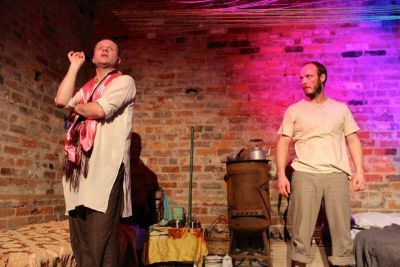 Angelo de Cata's performance is nothing short of astonishing. I was sitting in the front row and saw his tears fall several times. He is incredibly moving and endearing as Molina, and his speech about queens like himself, those who feel they are women and want to be with a real man, except that the real men are all with real women, was just heart-breaking. It's a performance of great truth and integrity – and indicative of Director Chris Baldock's commitment to truth. But, despite good directing, de Cata moves us because he himself is moved – he inhabits Molina completely and gives him a nobility that was missing in the film, and in the previous stage production I saw. There's an innocence, a guilelessness and decency in his acting that draws you to him: Consummate acting that will stay with you long after you leave the tiny claustrophobic performing space. Adam Ward has the less sympathetic role and it's always seemed to me that Puig doesn't fully understand his straight hero, nor is particularly interested in him, using him as a vehicle to explore Molina. Nevertheless, Ward finds extra depth in the role, and is physically impressive. The scene where he can't stop the itching in his body actually had me scratching, so real was it….and Ward's body was blood red from the force he applied to the scratching. Occasionally the stoic, wooden jawed, persona of the character is annoying, but that's a fault of the playwright, not the actor. The sex scene is handled beautifully, despite being graphic with bare buttocks. De Cata's Molina has no agenda except to give himself to Valentin. There's no suggestion this is a pre-cursor to gaining information or using Valentin. This gives the scene an incredible poignancy that counteracts what could be confronting for some audience members. It was a magic moment, where the two find, albeit briefly, true love and understanding…and Molina loses himself to the "real man" he has always sought.
Baldock and his company have had a spectacular year. Equus was probably the best production I have seen so far in 2013. One might question why Mockingbird did not make it the final production of the year, since it was so spectacular, and move Spiderwoman forward. But, in its own way, and without the need for a large cast or extravagant staging, this play better sums up Baldock's philosophy. This director is not afraid of raw emotion and he trusts his audience. "Spiderwoman" cuts through all theatrical trappings, including some clunky dialogue (the last line of the "live" play likening Molina to a Spider woman is anachronistic and awkward) and gives us raw honesty. And isn't that what good theatre is all about?
Coral Drouyn.