Krapp's Last Tape
By Samuel Beckett. Red Line Productions. Old Fitz Theatre, Woolloomooloo. Nov 26 – Dec 14, 2019
Brian Thomson's set and Veronique Bennett's lighting at the Old Fitz embrace Krapp, providing him with the dim space and light he craves: "The new light above my head is a great improvement. With all this darkness around me I feel less alone."
Sixty shabby filing drawers tower like a wall over him. A ladder propped beside allows him access to the uppermost drawers. His battered desk is centred under "the new light". Its globe dims each time he moves away.
Jonathan Biggins inhabits Krapp like a threadbare coat or a worn slipper. He shuffles in from the bathroom, obviously still suffering the digestion problem that we learn about in "Spool 5" from "Box 3". Carefully he places the ladder and climbs to put the toilet roll he holds into the highest filing drawer.
His character is established in these first, studied actions. His Krapp is an old 69 year old, settled in his ways, safe in his "darkness".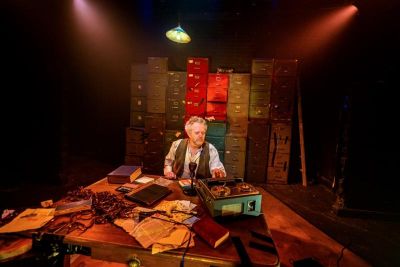 Gale Edwards has directed this version of Krapp to uncover the incredible complexity that Beckett wrote into the character. His youth. His love affairs. The few copies of his books sold. The death of his father. The death of his mother. The feel of a rubber ball in his hand. Every little revelation in the text has been assiduously included in the character she and Biggins have developed – every action and reaction thoughtfully considered and intuitively paced. The way he fiddles with his keys. The way he peels the banana. The way he eats it. The crooked smile as he recalls the woman in the punt.
And the way he waits, at the end of the play, as the "new light" above his head gradually fades … for us to contemplate his remarkable performance.
Carol Wimmer
Photographer: John Marmaras