La boheme
By Giacomo Puccini. Libretto by Giuseppe Giacosa and Luigi Illica. Opera Australia. Director: Gale Edwards. Set Designer: Brian Thomson. Lighting Designer: John Rayment. Costume Designer: Julie Lynch. Opera Theatre, Sydney Opera House. July 12 – October 24, 2011.
Staging La bohème in Sydney is a bit like going into bat after Bradman. The bar was set at a stratospheric level by Director Baz Luhrmann's production in 1990, which eventually made it to Broadway. How do you top it?
This production opened in what looked like the inside of an old warehouse in the shape of a gazebo…the home of Rodolfo and his impoverished bohemian artists.
The leading man was Ji-Min Park, imported from South Korea, with Covent Garden credentials. He didn't look Paris 1830 - but his rendition of che gelida manina (Your tiny hand is frozen ), while not spine tingling, was beautifully emotive as was the rest of his performance.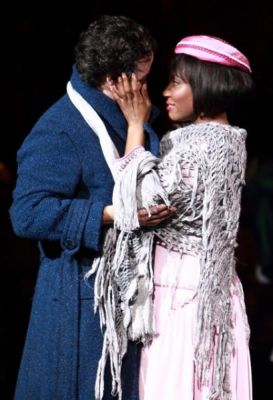 Opposite him was Takesha Meshe Kizart, imported from the USA, as Mimi. Hers was the voice of the night. It made you wonder how can someone sing so flawlessly?
The transition from their cold home to the Café Momum in the next scene was very clever. Each side of the gazebo spun around into what appeared to be the balcony of a grand cabaret venue in the style of Berlin in the 1930's. Included in the ring-side seats were topless women and a lesbian couple. While the pretty young things were nice to look at, the partial nudity was an unnecessary distraction.
Stealing this scene in a more traditional fashion was Taryn Fiebig as Musetta, singing her famous waltz in a dress that glittered like the stars.
In the second act the sides of the gazebo became a corrugated iron fence and for the final scene they revolved back into Rodolfo's home – now resplendent with a completed mural of the parting of the Red Sea, about to wash away the sins of the Egyptians.
It was an apt surrounding for the tragic ending we all knew was coming. While this production won't go to Broadway, it was a feast to look at, with a special mention to the exquisite lighting from the designer John Rayment. My favourite was his soft light on snowflakes.
Members of the audience went home well satisfied – many no doubt inspired to get out their dusty Baz Lurmann video to compare and contrast.
David Spicer
Images: (Top) Opera Australia's 'La bohème'. Photographer: Branco Gaica. (Lower) Ji-Min Park (Rodopho) and Takesha Meshe Kizart (Mimi) in Opera Australia's 'La Boheme' photo by Tito Media.
To keep up with the latest news and reviews at Stage Whispers, click here to like us on Facebook, or follow us on Twitter.