La Cage aux Folles
Music and Lyrics by Jerry Herman. Book by Harvey Fierstein. Based on the play "La Cage Aux Folles" by Jean Poiret. SUPA Productions (ACT). Directed by Garrick Smith. ANU Arts Centre 7 – 22 November
Fabulous? It's SUPA—of course it's fabulous! Leave your cynicism at home and enjoy this hilarious, high camp, unabashedly sentimental story of love and comeuppance. La Cage aux Folles is a glitzy musical that shines with the over-the-top SUPA formula of live music, great performances, gorgeous costumes and an innovative light show. The script is a furiously witty celebration of a certain gay culture and lifestyle, and the songs are gorgeous.SUPA's interpretation is slick, professional, side-splitting and heart-warming.
Apart from the superb production values, what makes this work so well is the casting. Ben O'Reilly is just sensational as the glorious, aging drag queen Albin. Everything hinges on Albin's star quality, and O'Reilly has that in spades. Not only does he look beautiful in make-up and sequins, he has a fantastic rich voice which he uses to wring out every bit of emotion and irony from the lyrics. Add to this his rapport with the audience, exquisitely camp delivery and flawless comic timing and you get the perfect Albin. Playing opposite him, Jarrad West brings nuance, depth and showmanship to Georges, Albin's partner. There's real chemistry between these two, still obviously deeply in love after twenty years together.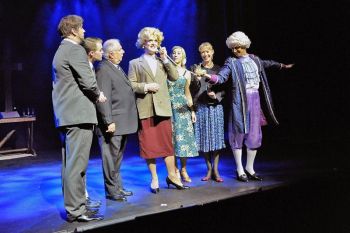 Len Power as the right-wing politician Edouard Dindon is quite hilarious as he moves between bewildered and enraged. The talent stretches all the way down the cast list to the most minor character. The dance troupe Les Cagelles are impressive, as is the clever choreography.
Backing this up was Eclipse Lighting and Sound, who pulled out all stops with new LED technologies to have pictorial light panels filling in the background scenes, moving laser lights and liberal use of the fog machine. From start to finish, it looks fantastic! Some of the LEDs even made it onto the costumes as well for the spectacular finale.
There's only a few days left of this season, so you'll have to get your heels on if you want to catch this feel-good dose of glam. Do – you'll love it.

Cathy Bannister
Images: Canberra Photographic Society