La Sonnambula
By Vincenzo Bellini. Victorian Opera. Conductor: Richard Mills. Hamer Hall. May 5, 2017
Exquisite!
There was no other word for it. Sydney's Jessica Pratt again returned from Europe to star in one of her favourite roles, and showed why last year she won the international award for Best Soprano of the Year.
I have not seen this opera before, but was familiar with many of the arias. Although I own a number of recordings, I don't have one in which the soprano would match what I heard from Jessica. Showing a restraint that is unusual in opera, the voice displayed was unfailingly beautiful. She only opened up in the big ensembles and nailed a beautiful high F at the end. It was a very special night.
Her partner was towering tenor Carlos Barcenas, who fearlessly negotiated the cruel tessitura of this role. However, I would prefer to hear him in more robust roles which don't stretch him quite as far.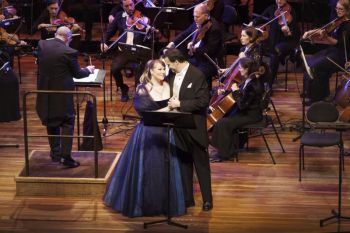 International bass, Paolo Pecchioli, was a sonorous Count with a lovely rich tone. Greta Bradman was well received as Lisa.
Roxane Hislop made a welcome appearance as the foster mother, and young bass, Timothy Newton, and tenor, Tomas Dalton, made favourable impressions in minor roles. The chorus were very busy and sang well.
This was a concert performance, and singers brought their scores onto stage, but in spite of this, there was quite a bit of interaction between the principals, and the audience became quite involved in the action.
However, this was Jessica's night, and no one who was there will ever forget it.
Graham Ford
Images: Greta Bradman, Roxane Hislop and Jessica Pratt; Jessica Pratt and Carlos Bárcenas; and Greta Bradman, Roxane Hislop, Jessica Pratt, Carlos Bárcenas and Paolo Pecchioli / Richard Mills conducting Orchestra Victoria. Photographer: Charlie Kinross.