La Traviata: Opera on the Harbour
By Giuseppe Verdi and Francesco Maria Piave. Opera Australia. Mrs Macquarie's Point. Director: Francesca Zambello. March 24 - April 15, 2012.
Sometimes you can walk into a theatre which is so breathtakingly beautiful that you've almost got your money's worth before the first note is sung.
That was my experience when I saw an opera at the New York Met.
For me, the same jaw-dropping excitement bubbled to the surface when Opera Australia was blessed with divine Sydney weather (after a summer of rain and storms) for the opening of their first outdoor season at Mrs Macquarie's Point.
It meant you could admire the Opera House at sunset, the giant chandeliers glistened on the tilted stage and in the Botanic Gardens the lavishly adorned restaurants surrounding the grandstand. It made the minutes before the opera opened an entertainment on its own.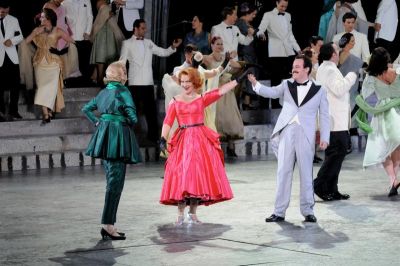 In the first act one visual treat followed another. The chandeliers ascended and descended in an array of different colours. There were beautiful costumes and fireworks less than half an hour after the Opera opened. It was stupendous entertainment.
However, with so much to look and marvel at, there was scarcely time to concentrate on the Opera. I was too busy to read the sub titles and didn't bother to follow the story too intensely.
The orchestra, under the able baton of Brian Castles-Onion, was hidden underneath the stage and the cast were miked.
For those used to the thrilling sound of an unassisted singer in a beautiful theatre it was slightly jarring. There was no alternative in an outdoor arena but it was the major compromise of the evening.
Emma Matthews as Violetta Valery appeared slightly nervous in the opening stanzas (who wouldn't be on such a grand stage) but by the end of opera relaxed to delight with some soaring arias.
Gianluca Terranova as Alfredo was the best singer of the night, hitting his straps from the word go
But the star of the night was the set design by Brian Thomson. It was truly a work of art.
And how clever of the Director Francesca Zambello to have some of the cast arriving at a party embarking from Sydney Water Taxis.
Provided the weather holds, this season will no doubt be a huge success and deserves to establish a fine tradition that has the potential to be world class.
Most impressive is that fifty percent of ticket buyers are attending their first Opera. Bravo and long may those chandeliers reign over Sydney Harbour.
David Spicer
Photographer: Lindsay Kearney, Lightbox Photography
More reading: David Spicer's interview with designer Brian Thomson and full photogrphic feature.