Ladies in Black
Book by Carolyn Burns, Music and Lyrics by Tim Finn. Ipswich Musical Theatre Company. Old Ipswich Courthouse. 26 April to 5 May 2019
With a completely sold-out season, the Queensland amateur premiere of Ladies in Black is in very safe hands. Confidently directed by Tammy Sarah Linde, with Music Direction by Matthew Semple, this is an energetic and enthusiastic production by the accomplished Ipswich Musical Theatre Company. With a combined background in theatre training and experience, you won't see a better so-called 'amateur' cast.
Ladies in Black is a demanding piece, with a large cast needed to tell Madeline St John's romantic comedy tale, set among the frocks in a Sydney department store in the 1950s. It is a plate-spinning multiple-character story that requires finesse from its performers, even before their vocal abilities come into play! Fortunately, this is no ordinary cast, capable of telling a story, with polished singing skills.
As the lead character, Lisa, Bailee Scott shines bright, rewarding our emotional investment. She is completely believable as a teenager from a different era, drawing us into her gentle coming-of-age story. As the two struggling Aussie girls, Harriet Jackson (Fay) and Lauren Roche (Patty) are absolutely delightful as they navigate the minefield of Aussie male deficiencies and female frustrations to comic effect. But they also elicit sympathy for their plight. Tristan Foon plays the hapless husband Frank with suitable befuddlement – his character is surely going to have difficulty handling the impending wave of women's lib! More confident of surviving the sexual revolution is Phillip Fitzjohn's Rudi, with a creamy tenor voice to match his suave and sure persona. As in other productions I've seen (including the film) the script surely cries out for more stage time for Rudi's romantic allure.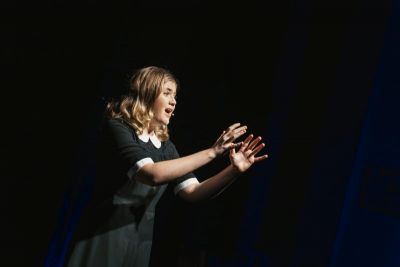 As the pivotal Hungarian immigrants, Danika Saal (Magda) and Chris Kellett (Stefan) are warm and welcoming, magnetically securing themselves the heart of the piece. Kellett also doubles as Mr Miles, in an adept performance. As Mrs Miles, Krystie French perfectly conveys the tinge of sadness at her own wasted potential to match her determination for her daughter's better future. The Goodes Department Store supporting cast are equally strong, with memorable performances by Elyse Rea, Miriam Slattery, EJ Campbell and Alex Andujar.
The main challenge for me is the mixed bag of tunes by Tim Finn. While the warmth of the characters will stay with you for days after the show, Finn's tunes are a slightly capricious collection that flit from the comic and quirky 'He's a Bastard' and 'I Just Kissed a Continental' to the joyful 'On a Summer Afternoon'. The heartfelt 'Tomorrow Becomes Today' will bring tears to your eyes, but will you be able to hum the tune on the way home? However, just like Finn's gorgeous pop songs, multiple spins will ensure their endurance as future sing-along classics, I'm sure.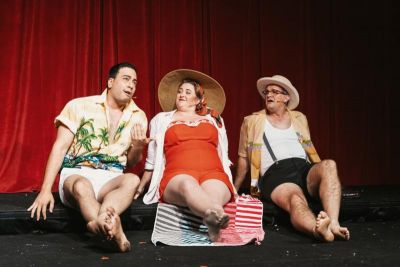 For community theatre groups, eliciting the glamour of the 1950s department store in small venues is always going to be a struggle. Sets and Props personnel, Brooke Scott and Jacqui Scott, did their very best with the available space and included some lovely and authentic period frocks to convey the setting. The small space also cries out for potential cuts to the script, cast and musical numbers – introducing the Hungarian characters earlier would help add pace, but that depends on what is permitted under the theatrical licensing. And, like the inaugural national production, the show could benefit from the energy that on-stage visibility of the musicians brings – or at least a cheeky curtain call reveal – the ending cries out for a reprise of the 'Ladies in Black' theme. However, the energy of this cast does not falter, and I certainly look forward to future productions by this talented, entertaining and award-winning community theatre group.
Beth Keehn
Photographer: Kenn Santos