Ladies In Lavender
Adapted for the stage by Shaun McKenna. From a Screenplay by Charles Dance. Based on a short story by William J. Locke. Direction: Gary O'Neil. St Luke's Theatre Society, Tarragindi, Brisbane. 23-31 August 2019
Cups of tea, gardening, and listening to the radio, dominate the world of aging-spinsters Janet and Ursula Widdington, in pre World War 2, Cornwall in 1937. That is until the a young man is washed up on the beach below their house, close to death. Nursing him back to health reveals he is a talented Polish violinist seeking fame in America. The sisters find themselves becoming progressively possessive of their stranger, especially Ursula whose unfulfilled feelings eventually surface with poignant results.
Based on the 2004 movie which starred Dames Maggie Smith and Judy Dench, the play, like the movie, is slight, filmic, but a pleasant genteel comedy that satisfies like the warming cocoa the characters consume.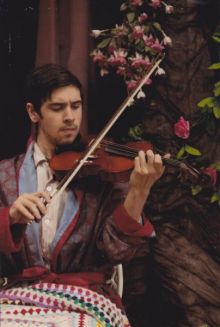 With a great mix of community theatre stalwarts and newcomers, Una Hollingsworth's colourfully Cornish cottage set nicely captured the atmosphere of the period, with Gary O'Neil's pacy production ticking all the right boxes.
Beverley Wood's Janet was stoic and stiff-upper-lip, whilst Mary Woodall's Ursula was girlish, romantic and touching. With their sibling rivalry they personified sisters who had little in their lives until Andrea's appearance gave them purpose. Woodhall's vulnerability was etched in pathos.
As the Polish prodigy Andrea, Nikolai Stewart was more than adept at the violin, and youthfully handsome, which made Ursula' attraction that much more believable.
First-timer Eleni Gill show promise as the glamorous Russian painter Olga, with Trevor Bond's Dr Mead displaying spite and jealousy when needed. But it was Maria Plumb's housekeeper Dorcas who landed all the laughs. With her regional accent and dry delivery she even made a meal of spreading manure.
The production benefited by the inclusion of several string compositions by Mendelssohn, Debussy and Bach, and with a script that frequently alluded to pasties and Stargazy Pie (a fish pie) it was all a rustic slice of Cornish heaven.
Peter Pinne