At Last: The Etta James Story
Writer: John Livings. Room 8. Athenaeum Theatre, Melbourne. Director/Producer: Simon Myers. Producer: Moira Bennett. Musical Director: John McAll. 19th February – 3rd March, 2013. (World Premiere). Also at Sydney Opera House from 30th April to 5th of May.
Thunder and lightning may have been the talk of the town in Melbourne on Thursday night (21st), but inside the packed Athenaeum Theatre Vika Bull and The Essential R&B Band were whipping up a storm of their own.
Electrifying and down right seductive singing by Ms Bull is the centrepiece in a narrative concert focused on the life of music's 'original bad girl', Etta James.
Bull's is a supreme voice, charged with passion and underwritten by technical brilliance. It's only a matter of time before Vika Bull is declared a National Living Treasure. In the meantime, I'm hanging out for the CD release.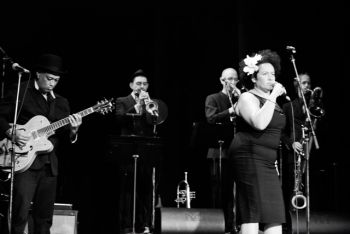 On keys musical director John McAll leads an undisputedly compelling band including the cream of Australia's crop: Tibor Gyapjas (narrator and trumpet), Ben Gillespie (trombone, vocals), Chris Bekker (bass), John Watson (drums), Dion Hirini (guitar), and Remco Keijzer (saxophones). Man, these guys are good.
At Last is the latest in Room 8's narrative concerts, a new genre in which songs are interspersed with an account of the subject's life. To date Johnny Cash (Tex Perkins), John Denver (Rick Price), and Gram Parsons (Jordie Lane) have been honoured with a show.
The narrative concert is a promising formula, although the relentless demand on the central performer is extraordinarily intense.
But consummate musicians are not necessarily gifted storytellers, and the narrative delivery was unconvincing in the early stages.
But it's the music we have come for, and it is a special treat that lovers of R&B simply must not pass by.
Lucy Graham.
Photographer: Chrissie Francis.