The Last Season
Text by Tom Wright. Music by Kelly Ryall. Choreography by Danielle Micich. Force Majeure / Sydney Festival. Carriageworks. Jan 6 – 10, 2021.
It's a tough call making a show with kids about the world's environmental collapse, but Force Majeure has an impressive record of working with non-dancers representative of different communities and current issues.
With the so-called Youth Company, the dance theatre troupe here re-constructs Vivaldi's optimistic Four Seasons cycle into the last gasp of The Last Season – not that you hear Vivaldi's symphony, or would even get the connection without being told.
Summer arrives first with the commanding actor Pamela Rabe as a schoolmistress type in period dress, drilling her young creatures to make beautiful things. The 13 youngsters had just fallen from illuminated cocoons hanging in the sky and emerged from their larvae, in the most striking of openings.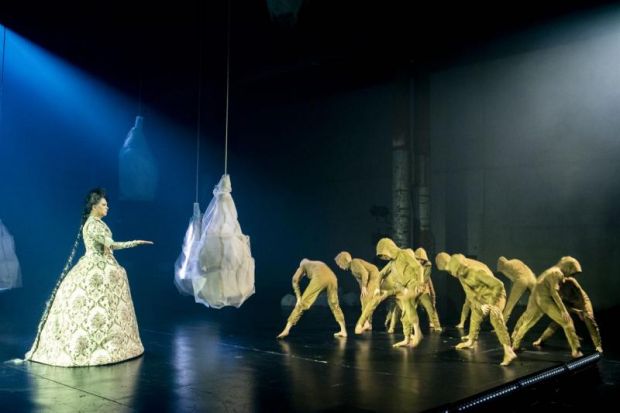 Autumn takes over with Paul Capsis playing an aging cabaret star, narcissistic and comically malevolent about a younger generation which now snubs him. Summer/Rabe too is concerned at a new unpredictability amongst her brood; indeed, they finally bash her senseless.
Winter, in the guise of the white-maned Irish actor Olwen Fouere, then heralds the death of all nature, and an over-extended ending has the kids running around perplexed and epileptic. Throughout, their choreography (by Force Majeure's AD Danielle Micich) is similarly generalised and unremarkable. And Spring never arrives.
Tom Wright's text may be heavy-handed about this looming dystopia but the production still entertains with wit, colourful invention and metaphors. It's dramatically lit by Damien Cooper, well designed and costumed by Marg Howell and driven by Kelly Ryall's initially minimalist score that ends soaring and urgent (she plays in the small live ensemble). I enjoyed it.
Martin Portus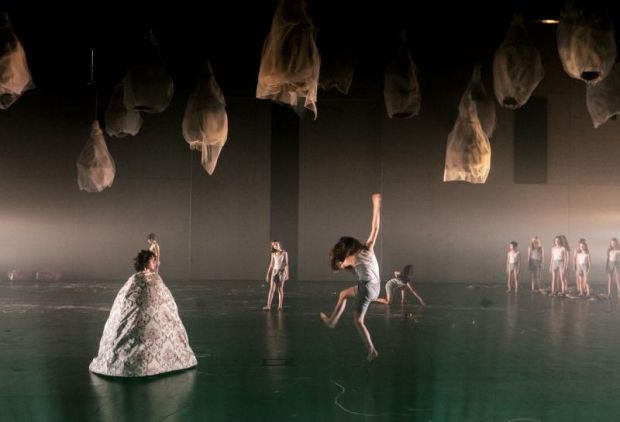 Photographer: Brett Boardman