Le Grande Cabaret
Melbourne Fringe. Hares & Hyenas, Fitzroy. September 13 – 15, 2018.
Fringe at its Burlesque best!
Le Grande Cabaret is a sensational ensemble of sassy and refreshing acts with tangy twists and devilish cheek. The show begins with a jocular introduction by the masterfully witty and commanding Master of Ceremonies Patrick Collins.
This is a pacy, driven show with non-stop rollicking fun and entertainment. The show is divided into two sections, the good and evil. It begins with the exquisite Camilla Cream (Miss Burlesque Tasmania, 2018) dazzling us in her fairy floss pink ensemble, with an alluring fan dance.
Lord Lovat hails from the land of tartan and with 263 twerks per minute his 'Twerking in the Rain' and his zombie/lunatic skit performed in eight-inch heels has us reeling backwards with aghast bemusement.
Miss Holly Wouldn't (Miss Burlesque Idol Australia, 2018) exhibits silent movie / Gatsby glamour, exuding a sweet innocence as she enchants us with her beguiling costumes and perfectly striking mannequin–like poised prowess.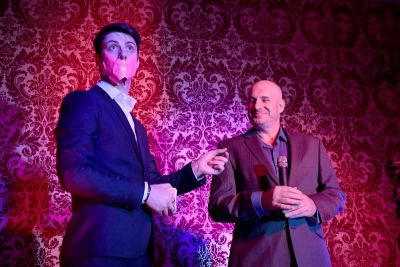 Lindsay Fox's King Kong "Unchain My Heart', along with her brooding and menacing Red Riding Hood/Wolf skit - oozes a unique lush and sexy aura, while we can all get a kick out of Micheal Wheatley's sleezy performances - he hustles his style with confident pimpish perfection.
The camaraderie between the performers is genuine and honest. Collins navigates the show with generous audience warmers and Kitty (Alexander) is the gorgeous stagehand, pawing her way through each act with glitzy purring ease.
A must see show!
Flora Georgiou