Legally Blonde
Music and Lyrics Laurence O'Keefe and Nell Benjamin, Book by Heather Hach, based on the novel by Amanda Brown and the MGM movie (2001). James Terry Collective. Chapel off Chapel. 23 November – 8 December 2019
Legally Blonde carries its 'message' so lightly and brightly that this feminist fairy tale wins us over with ease. Especially in this splendid production from the James Terry Collective in which the cast sparkles, and Katie Weston's fifteen-piece band (four trumpets!) pumps out one upbeat tune after another. If things get sad, it's temporary: our heroine is up and at 'em again in a flash.
Rom-coms are predictable: the rules of the genre are rigid. But our enjoyment depends entirely on how much we want the predictable to be true. In this story, a California airhead with a degree in Fashion Merchandising can, yes, get into Harvard (via a dance number!), a manicurist can be wise, a bitchy snob can have a change of heart, a nasty predator professor can be humiliated, a legal case can be solved via 'intuition', and the dumb blonde turns out to be not so dumb.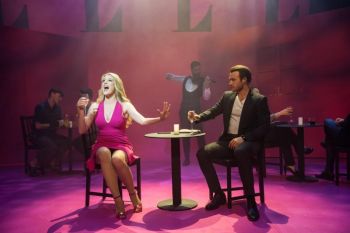 Elle Wood (Samm Hagen) is from a rich family, with flowing blonde tresses, showing her physical assets off to great advantage, dressed all in fairy floss pink, with a miniature dachshund as an accessory. It's a lovely irony that Elle does start out dumb. Her even richer, shallow boyfriend, Warner Huntington III (Joshua Firman), dumps her because he's off to Harvard Law School, he has political ambitions and Elle just isn't suitable – not a 'Jackie' as he puts it. But Elle gets over being crushed and devastated very fast and naively determines to go to Harvard Law School herself and win him back. In other words, Elle doesn't get it. At first. But she will. That's what Legally Blonde is about.
The show (like the movie) rests on Elle. This is Samm Hagen's first full, no-doubt-about-it lead role and she carries it – and the show - off as if she's been playing leads for years. After this, she should be playing leads often. She's absolutely there on stage, she sings, she dances, and she's funny. She engages the audience with her character's mix of innocence, resilience, generosity, flashes of insight, wisecracks and learning that knowledge from her world turns out to be surprisingly useful in another.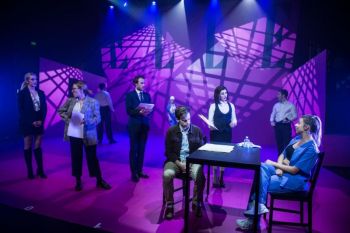 She is more than ably supported by the rest of the cast – leads and the multi-role ensemble. Evan Lever is the nice guy under her nose all the time; Lala Barlow is perfectly cast (and dressed) as Elle's nasty rival Vivienne Kensington; Tod Strike is lean and mean as the sleazoid law professor (2nd Act reversal); and Willow Sizer is Paulette the manicurist who becomes Elle's advisor and beneficiary. (Ms Sizer even recovers from the show's one serious lapse: an out-of-place song about the Irish.) Crystal Hegedis is the compact aerobics millionaire, the accused in the climactic murder case; Jordan Barr gets laughs as the 'humourless feminist' (the show has to have one) and Kyle Perryman is very funny when he plays a starchy law professor, a badass drunk and Kyle, the delivery man with a great package. Just about everyone can dance as well.
Director Michael Ralph's choreography (assisted by Romy Vuskan) is inventive, precise, bursting with energy and widely varied depending on when and where another dance number comes in the show. The Chapel off Chapel stage is small, and the choreography is adapted beautifully to fit.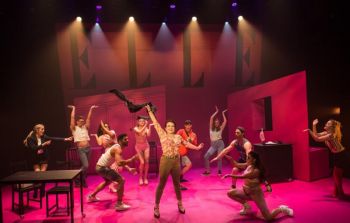 Scene transitions are smooth and covered by action or dance so that narrative drive isn't lost. Dave Angelico's set is cleverly adaptable, supplying a multitude of locations with some simple, often choreographed movements.
Yes, this is an import of an American musical, and it's not profound, but it is so well designed, costumed, directed and choreographed that it is well-nigh irresistible. Yet again James Terry has assembled great collaborators – and they have to be great to make this show, that could so easily be clunky, work. And work it does. If you like a musical produced and performed by a young, attractive cast, with commitment, verve, wit and a 'good message', I suggest Legally Blonde.
Michael Brindley
Photographer: James Terry