Les Misérables (The Film)
Directed by Tom Hooper. Opens Australia wide on Dec 26, 2012.
It seems odd that there was an embargo on full reviews for the film in Australia, whilst we could all use the internet to read reviews in other countries. But now at last we're free to talk about one of the most awaited movies of the decade. I won't waste time explaining the story, you all know it by now.
Cameron Macintosh has been largely responsible for the phenomenal success of Alain Boublil and Claude-Michel Schönberg's musical, and has always been reluctant to put the show on film. But the scope has been greatly enhanced by making it a cinematic spectacle. Does it work? Well, yes and no. It will thrill and excite those who already know the music and the show, and frustrate those who just want to see a great movie.
One of the biggest assets to the film is the stellar cast; but it's also one of the film's biggest liabilities, as sometimes these are not the right actors for the roles. It's as if this has been an exercise to get the most bums on seats…..people will come just to hear stars singing "live" on film. That novelty may pull in a few extra bodies who don't ever go to see live musical theatre where the cast HAS to sing live…and in one take, and move around a stage while they're doing so. However, it's almost an insult to the great musical performers of theatre that this is somehow considered a miracle.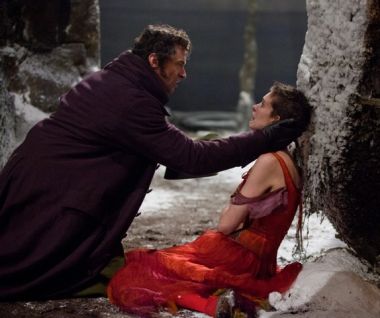 Hugh Jackman is the perfect Valjean, tortured, tormented, redeemed: the ultimate hero. He only puts one foot wrong in the entire film. Unfortunately that one foot seems to be caught in his mouth for the first few notes of "Bring Him Home" which Hugh chooses to sing in full voice rather than falsetto head register. It's not pretty, but he is so good in the rest of the film that it's easy to forgive him. One of the most charismatic performers around, he reinvents the role. He's every inch a winner as a man, so it becomes a quest to see how he will triumph, rather than whether he will triumph. Anne Hathaway's performance as Fantine will be the benchmark from now on. She is simply stunning singing "I Dreamed a Dream" and Hooper shoots her looking from left to right, then moving the camera to full-face. It's impossible not to cry at this magical performance, and there is nowhere else to look except at her haunted, tragic face. It's breathtaking. Surely this dispels for all time any suggestion that Anne Hathaway is a lightweight? She lays her soul bare for this one and must be the strongest contender of the cast for an Academy Award.
It's easy to justify the presence of both these stars in these roles. But the casting of Russell Crowe does smack of cynical dollar hunting. He looks impressive but seems uncomfortable throughout and struggles vocally with every song. Because of this, his Javert never seems a real threat to the strength of Jackman's Valjean. If these men are not equals, then the struggle has no meaning. I have loved Crowe's character work in films like The Insider and A Beautiful Mind and long to see him do more as he ages. But he's out of his depth here. The production didn't need another Superstar, it needed a fine musical theatre leading man.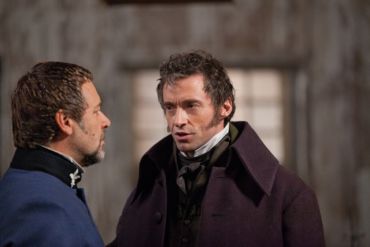 The amazing Eddie Redmayne makes Marius a fully developed three-dimensional character. He's a great young actor surely destined for superstardom. The bonus is that he also has a superb lyrical tenor voice. His rendition of "Empty Chairs at Empty Tables" takes it to another level and is the second occasion you will definitely need a box of tissues. He's quite wonderful and brings great emotional range to a character which is generally of tissue paper depth. Samantha Barks does justice both dramatically and vocally to the role of Eponine. "On My Own" gives her a chance to impress but if you saw our own Sylvie Paladino, age 18, in the original Australian production owning that song, well…everyone else pales into insignificance. Colm Wilkinson, the original stage Valjean, makes a welcome cameo as the Bishop, always a fine performer.
Amanda Seyfried has been added to appeal to a younger demographic (so the marketing people tell me). She's altogether too modern as Cosette and, while her voice suits ABBA songs, here she barely scrapes through with a tinny soprano which is pitchy at best and screechy in its worst moments. Marius, and the film, deserve better. Perhaps the biggest mistake is Sacha Baron Cohen and Helena Bonham Carter as the Thenardiers. This is grotesque pantomime, so far over the top that it's destined for a moon landing! It's fine to have comic relief but this couple is meant to be insidiously evil, and a real threat to Cosette and Valjean. I found myself exclaiming "wot?!!!" under my breath more than once, and losing my place in the story, which is difficult to follow at the best of times.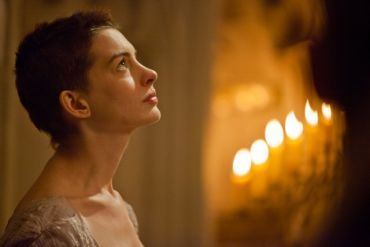 Tom Hooper is perhaps an odd choice for Director. Winning an Oscar for "The King's Speech" doesn't automatically qualify you to adapt a beloved musical stage extravaganza to the screen. The film, at 158 minutes, feels alternately over-bloated and undercooked. There is no sublety, and no attempt to explore the subtext, so do your research on the students rebellion and the background before you go to the cinema. It didn't matter so much on stage, but it is confusing on screen as it's so overwhelmingly large at times that individual lives get lost. Elements like the expansion of the Marius/Cosette love story (at the same time as truncating Fantine's role so that she's all but forgotten when Valjean dies) seem tacked on and tacky at the same time. This includes a new song "Suddenly" added for Valjean to sing as he experiences his first paternal feelings. It's not needed but, guess what? It makes the film eligible for a Best Song Oscar!
Hooper's direction of the camera falls into two categories – long master shots with extensive use of CGI; and extreme close-ups. Rarely does he employ medium shots and so the visual style eventually becomes underwhelming after 2 ½ hours. There's also a tendency to place the close-ups on the extreme right of screen, with the character looking always to the left. I don't know if it's affectation, or the stars insisting on showing their good sides, or is perhaps visual subtext, meant to signify the rebels trying to move their followers further left. Whatever the case, it becomes annoying round about the halfway mark. There's a certain "in your face" contrivance to the grime, the overt emotion, as if Hooper is saying "Cry, damn you – that's what I'm being paid for." And of course we do, but I suspect we would anyway even with a gentler touch.
The high points were exhilarating to me, and will be to everyone, but they're separated by long periods of boredom and that brought my overall enjoyment level down. Will it win Oscars? I suspect it will get around 10-12 nominations and win two – Jackman and Hathaway…. Though, if there is any justice, Redmayne will at least be nominated as best supporting actor. At its best the film is soaring and inspirational, at its worst it is garish and cynically manipulative. Is it in the top 10…20….100 best films ever made.? That's always going to be a matter of personal taste and there will no doubt be plenty who think so.
Coral Drouyn
Images: © Universal Pictures