Les Misérables
Music by Claude-Michel Schönberg. Lyrics by Herbert Kretzmer. Original French text byAlain Boublil and Jean-Marc Natel. Additional Material by James Fenton. Adaptation by Trevor Nunn and John Caird. Young Australian Broadway Chorus. National Theatre, St Kilda. January 18 – 26, 2019.
A brilliant new production under the fabulous direction of Robert Coates, Young Australian Broadway Chorus present an outstanding staging of the Boublil and Schonberg's musical Les Misérables currently on at the National Theatre, St Kilda.
The French novel by Victor Hugo, written in 1862, considered one of the greatest novels of the nineteenth century, was adapted into a musical in 1980 and has since become the second longest running musical in the world.
Set in France, this epic story follows convict Jean Valjean, who breaks parole and creates a new identity while on the run from the ruthless police inspector Javert. Valjean is guardian to the orphaned Cossette after the death of her mother Fantine. A few years later the state of France is in turmoil and the revolutionaries take arms, Valjean survives the bloodshed and finally finds resolution with his own life.
Coates has mindfully cast great aspiring talent. The arduous task of directing a full cast and ensemble team of young people who have devoted their time and energy to such a production is colossal. High praise to Jean Valjean (Bryce Gibson), who is perfectly cast, singing with compelling sentiment. Fantine (Emily Svarnias) comes together with Valjean in a heart-wrenching rendition of "Come to Me".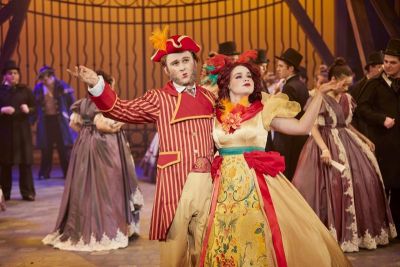 Comical byplay is always at hand with the innkeeper Thenardier (Jackson Hurwood), the conniving rapscallion, and his scampish wife Madame Thenardier (Madeleine Horsey) both stupendous performers. As their daughter Eponine, Rhea Brandish gives a striking performance. The villainous and misguided Javert (Nicholas Sheppard) addresses the revolutionary leader Enjolras (Jordie Race-Coldrey) with both reflecting their opposing ideals in "Javert's Arrival".
Gavroche (Cameron Langeveld - evening performer) is marvelous as the young street urchin who is caught up in the gunfire of the revolution. The delightful Cosette (Jasmine Arthur) along with Marius (Ben Gonsalvez) are breathtaking in "Every Day".
A great cast and ensemble team of talented performers provides a rich and energetic ambience that is profoundly enchanting and picturesque.
Musical director Justin Jacobs masterfully conducts his impressive youthful orchestra with sublime precision throughout the entire show. Production values are impeccably high and the set design (Dann Barber) is spectacular with staggering roving sets that mimic the era. The lightning (Linda Hunn) is sublimely orchestrated and the costume design (Jennifer Mckenzie) is historically flawless, colorful and imaginative.
Flora Georgiou
Images: Kit Haselden Photography.