A Letter For Molly
By Brittanie Shipway. Directed by Ursula Yovich. Ensemble Theatre, Sydney. 9 May – 4 June 2022
When free-spirited indigenous artist Renee is asked what part of Australia she comes from she doesn't say Coffs Harbour or Korora (er, where's that?), she says 'The Big Banana' (oh, yes, right, I've been there!). And when asked how far back she goes, she says, proudly,'60,000 years!' The opening night audience at the Ensemble thundered their applause at this, and Gumbaynggirr writer Brittanie Shipway, creating and playing Renee, must have known that she had arrived.
Shipway leaves the best possible mark in her own play, making the most of the comic highlights and sheer emotional force in this examination of mother-daughter relationships. Then there's the time, at the beginning of the year, when Renee unfortunately discovers that she's 'a little bit' pregnant.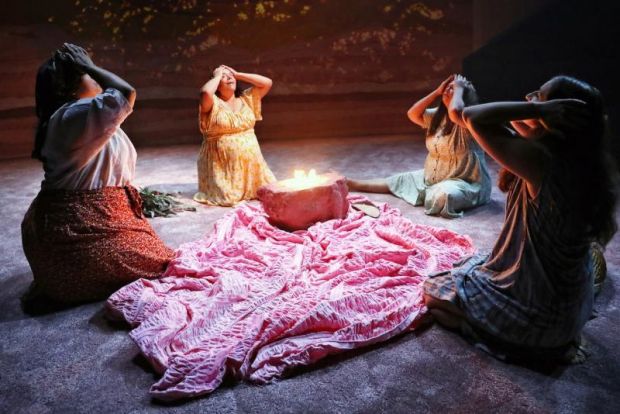 Leaning heavily on the feminine side of things (well, 100% actually), the play offers examinations of motherly, grandmotherly and great-grandmotherly attitudes, tied together in Renee's new experiences of potential motherhood.
The only male voice is from her vibrantly gay friend Nick, played with out-there certainty by Joel Granger. Whoever was primarily responsible for this pregnancy is phoned a couple of times, but never replies.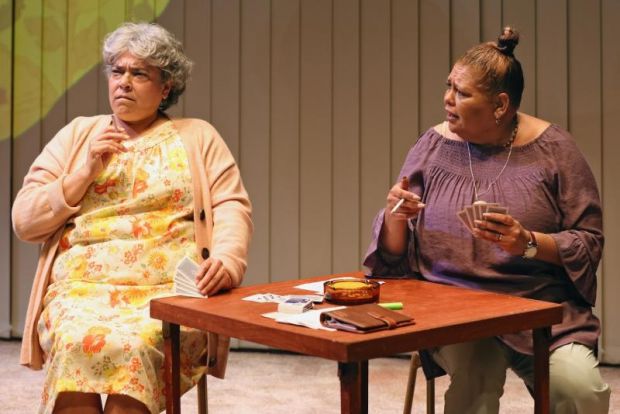 The female members of the family - represented by her mother Linda (Nazaree Dickerson), grandmother Darlene (Paula Nazarski) and great-grandmother Miimi (Liza Maza) - are exuberantly explored.
Renee is a growing artist, ready to pick up any clue to her current predicament. Sometimes she's right in the middle of things, as a young girl having her photograph taken with her all-female family.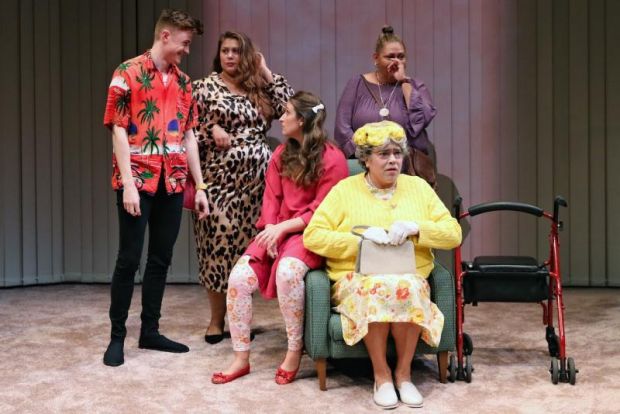 Moving steadily between scenes, director Ursula Yovich has the mood and language of this entertaining play exactly right. With minimum fuss she moves the action forward, with great help from Set and Costume Designer Hugh O'Connor, who gives the illusion of limitless space to this tiny theatre.
The lingering image of an abstract background remains, like an indigenous painting occasionally breaking into motion, giving a timeless certainty to events.
Frank Hatherley
Photographer: Prudence Upton