Lewis Carroll's Alice in Wonderland
Adapted by Mike Carter. Darlington Theatre Players. Directed by Rachel Vonk, musical direction by Michelle Ezzy. Marloo Theatre, Marloo Rd, Greenmount, WA. Feb 28 - Mar 14, 2020
Darlington Theatre Players' production of Alice in Wonderland is a colourful and fun production, loyal to the original story, featuring an energetic multi-age cast. A musical of sorts, with pantomime elements, this large cast production is clearly aimed at a family audience.
Sumptuously costumed by a team led by Marjorie DeCaux, the characters are brought to life with some lovely broad-stroke characterisations to match the creative design. The physical world of Wonderland was designed by George Boyd - with some particularly impressive truck pieces, and projections by Benedict Chau. The show has a fun and clever lighting design by Bailey Fellows.
A stellar performance from Daisy Churchman in the central role. Daisy's Alice is clever and likeable, in a performance that is sweet and understated. A lovely conduit for the audience to be drawn into this world, she is a perfect anchor for this show.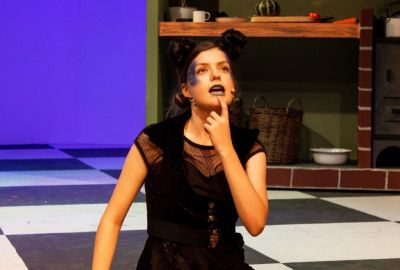 Kate Temme gives us an energetic, enthusiastic white rabbit, a lovely contrast to the second character we meet in Wonderland, Sophie Hennigan's gentle, prettily accented French Mouse.
The Caucus Race is a highlight, not only because it is wonderfully led by Katelyn Barr as the Dodo, but because this big raucous group number is a great example of the clever choreography from Ebony Uetake and musical direction from Michelle Ezzy - although a volume boost may have helped give this even more zoom. Lovely work in this scene from Sophie David as The Duck, Tahli Redgwell as her duckling, and Lily Churchman's adorable Eaglet. Cute cameos from Stage Manager Belinda Beatty and ASM Locklen Falkingham add to the fun.
Niamh O'Hehir's cynical and worldly-wise Caterpillar was excellent, followed by great banter and team work from Bailey O'Hehir and Jenn Hurley Green as the Fish and Frog Footmen. At the Duchess' home we meet the imperious Duchess, well created by Rebecca McRae, and enjoy a fun sing off led by Megan West's rambunctious Cook, Saoirse Gerrish's elegant Cheshire Cat and Alice. The Mad Hatter's Tea Party is well created with nice bounce between Sean Wcislo's Mad Hatter and Chris McRae's March Hare, beautifully countered by Jemima Lee's delightfully dozy Dormouse.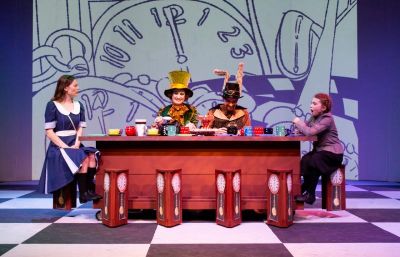 Terrific teamwork by the pack of cards - working together with precision - Oscar Uetake, Lilly Miller, Talia Barley, Caitlyn Moloney and Evie Madeleine. Guy Jackson gives a solid portrayal of the Jack of Hearts. The Queen of Hearts is played with Tudor passion by Tracey Morrison, comedically matched with her little boy king - a beautiful stage debut by Jackson Lucas.
Another lovely pairing is Jack Churchman and David Bell as Tweedledum and Tweedledee, with some fun physical comedy. Mike Moshos, in his second Alice production in under a year, is a great Gryphon, with Kika van Wilde bringing a lovely voice and pathos to The Mock Turtle.
Unfortunately the enjoyment of this sweet little show was tempered on opening night by the bad behaviour of several audience members. Responding in pantomime is great, but the audience come to hear and see the actors, not other audience members, and making offensive remarks about a child is simply reprehensible. Not the fault of this hardworking cast or crew, but I have not heard such horrible comments in over twenty years of reviewing. The cast handled this well, but nobody deserves this sort of disrespect.
Wishing this lovely team a season full of lovely, warm and responsive audiences .
Kimberley Shaw