Liberty Equality Fraternity
By Geoffrey Atherdon. Ensemble Theatre (NSW). Director: Shannon Murphy. February 13 – March 9, 2013.
Take the suggestion that anything you write or post on Facebook, any email, any text that you send, could be hacked and twisted to be used against you in some way, and you have the basis for Geoffrey Atherden's latest play. It's fast, it's believable … and, in true Atherden style, it's funny – fortunately, for without the humour, it would be uncomfortably scary.
Before the play opens we see a woman on CCTV, waiting, alone, in a locked room. She is obviously confused, anxious, angry. She paces, tears up a piece of paper, cleans her nails. The scene is set before the play even begins. Why is she there? What will happen next?
A young man enters. Though dressed in a suit and tie, he seems slightly out of place. A bit immature perhaps? Nevertheless, he wheels in a trolley full of files, logs on to a computer, and begins an interrogation. And if she won't answer the questions, that's OK, because he has the answers anyway! Photos in a supermarket of her allowing her daughter to shoplift; Facebook photos of her dressed as a terrorist or appearing to be kissing someone who isn't her husband; suggestions about the paternity of one of her children. It's all in his files.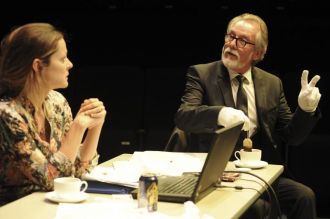 This is a scare campaign – but she doesn't know why? She hasn't done anything wrong, but things she has written, places she has been, comments she has made are being used to infer she is something she isn't.
And the frightening thing is that it could happen!
Atherden has created a very clever piece of drama. The dialogue is short, staccato almost at times. The characters emerge from it quickly. She moves from anger to anxiety about her children, from confused disbelief to sarcastic cynicism. He is in control, after all he has the upper hand. He counteracts her protestations with more and more suggestions of wrongdoing; almost struts his allegations. But she is smart – and increasingly he lets her niggling cracks get at him.
It's a great script – and Shannon Murphy and her cast, Caroline Brazier and Andrew Ryan – have found the pace and timing and intonation that bring out the fullness of the characters and the implications of their messages. They are both incredibly strong and believable in these roles. Their pauses are emphatic; their looks telling; their actions and reactions very real. Once again, this could happen … to any of us, it seems.
And if one is hoping for a resolution – remember this is Geoffrey Atherden and he is writing about 'Now' and all the implications that social media and hacking and phone tapping imply …
Carol Wimmer
Images Andrew Ryan and Caroline Brazier & Caroline Brazier and Helmut Bakaitis in Liberty Equality Fraternity. Photographer: Heidrun Lohr.