Little Gem
By Elaine Murphy. Irish Theatre Players. Directed by Suzannah Churchman. Townshend Theatre, Irish Club of WA, Subiaco, WA. Aug 19-28, 2021
Little Gem is a monologue play featuring three generations of the same family over the course of a year, Performed by three very strong performers, it was very well received by a sold-out audience at its only matinee performance.
"A story of love, sex, birth and salsa classes", this play is quintessentially Irish and has some ripe language and adult concepts (including some beautifully staged 'almost' sex scenes). While there is occasionally silent interaction, the story is otherwise told completely in direct address to the audience. A very simple set, and straightforward but effective light and sound by John Woolrych and Josie Hacking, allow performances to shine. There is some very effective use of properties.
Shannon Murphy describes the role of Amber as her most challenging to date, and she rises to the challenge of playing this feisty 19 year old faced with an unexpected pregnancy. Lots of lovely layers in this endearing and vibrant performance.
Hazel Beirne looks too young to have an adult child, but as the same thing is said of her character Lorraine, this is excusable. Another lovely performance of this sandwich generation woman, who is rediscovering herself after a tricky past.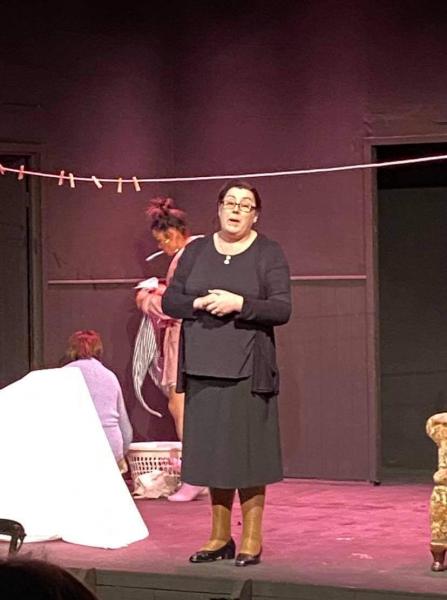 Caroline McDonnell is outstanding as Kay, beautifully capturing a woman coping with her very ill husband. Running the gamut of emotions from high and 'naughty' humour to utter despair, this is a wonderfully structured performance that captures the audience beautifully.
The cast and director have beautifully created the world of these three women, and we get to know them, and a handful of never seen characters as well. The structure is unusual and might feel disjointed if not for a concerted attempt to flesh out the scenes and maintain a presence of the remaining characters during some of the soliloquies.
An interesting story, beautifully performed, that will draw you in to the community of the play. Also lovely to feel part of the Irish community at every performance, especially at this matinee performance that not only included lovely afternoon snacks from Hetty's Bakery, but the joy of seeing Irish Theatre Players make a $3000 donation to the Claddagh Association Seniors - a heartwarming afternoon.
Kimberley Shaw