Little Mercy
Sisters Grimm. Wharf 2, STC. March 7 – 24, 2013.
Like a slickly scripted film from Hollywood's Golden Age, Little Mercy begins at cocktail hour in the comfortable New England home of a theatrical producer and his statuesque if neurotic housewive. Roger and Virginia are desperate for a child and their pleas are answered this stormy night with the arrival of an eight-year-old foundling.
Little Mercy may be dressed sweetly like Shirley Temple but, as played by elderly bug-eyed actor, Jill McKay, there's something very odd about her. Soon a trail of blood and murder spins us into a homage to the Hollywood horrors of the evil child and hysterical heroines, the world of Rosemary's Baby and The Exorcist.
Created by the Sisters Grimm (director Declan Greene and lead drag actor Ash Flanders), Little Mercy began as a hit in a Melbourne carpark, but is here given witty extravagance with the production support of a visionary STC.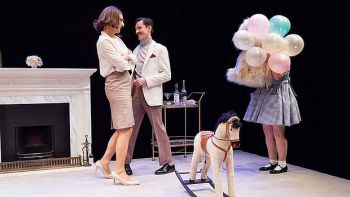 Ash Flanders plays the desperately elegant Virginia, a superb picture of fluttering femininity far more effective than the real thing. Whether game-playing to arouse her husband or later straitjacketed in the asylum, Flanders is always the camp truth at the centre of this madness. That tongue in the cheek is never let go, which is the genius of this hilariously mad production.
The playful queer perspective is further sharpened by Luke Mullins as Roger as well as Mercy's severe tutor with aggressive lesbian desires for Virginia.
Steve Toulmin's musical score is richly foreboding and he does a cool drag trick as Gloria, the streetwise-soiled vamp who gets Virginia back on her heels. Little Mercy is wicked funny in its cinematic satire and gender bending wit: queer theatre for all the (older) family.
Martin Portus
Photographer: Brett Boardman