Little Orphan trAshley
Written by Trevor Ashley and Phil Scott. Directed by Craig Ilott. Studio, Sydney Opera House. December 5 – 23, 2012.
This is brilliant, funny, wicked theatre. Don't get too tipsy at the bar as you'll need your wits for the quips that come so thick and fast you'll miss them if you're not paying attention.
The show has the right blend of crudity, profanity, ribald humour and social and political satire suitable for an adult panto. It moves at a fast pace and each of the talented cast get their chance to shine, ably supported by Michael Tyack's musical direction and three piece band.
All is not well at the Sutherland Shire Orphanage for Talented Girls, run by the evil Miss Trannigan (Rhonda Burchmore): ten-year-old little orphan Fannie (Trevor Ashley) needs money for a certain operation that will remove those extra bits and make her a complete woman. She also needs permission from her birth parents to get the chop.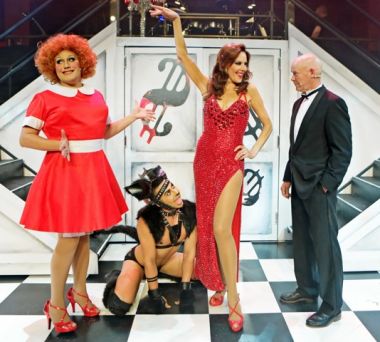 Fannie meets millionaire photographer Daddy Warhorse (Gary Sweet), or "Daddy Whorehouse" according to his illegal immigrant maids. Daddy promises to sponsor Fannie, but first she must survive his nude photo shoot and appearing in front of evil talk-back radio personality Ellen Jones (Burchmore again). There's also a frisky dog played by So You Think You Can Dance finalist Rhys Bobridge and some very hot looking orphans in the form of Tina Jackson and Coral Mercer-Jones, who do great work in the many roles they double.
Not only does Fannie have to find money for her op, but she also has to negotiate her way through the legal minefield of certain other famous orphans. However, we are left in no doubt that this panto is based on the most definitely out-of-copyright Oliver Twist. Just don't say "tomorrow" twice in a row.
Hardly anyone or anything escapes lampooning: Gina Rinehart, Lara Bingle, One Direction, The Voice, that blind girl from the Voice, the Batman movie slaying, gay marriage, redheads, the Shire, and more. It may be easier to list who or what doesn't get parodied. A couple of references may have been a bit too "Sydney-centric" (e.g. Michael Idato, Clover Moore, the Imperial Hotel) but that is forgivable.
The sights of Gary Sweet looking nonchalant while his leg is dry-humped by a dog in bondage leather (the dog, not Gary), and Rhonda Burchmore channelling an AbFab Joanna Lumley via Amy Winehouse are worth the price of admission alone. I think anyone who is a fan of the musical Oliver! will never hear "Where Is Love?" in the same way again. Best! Christmas! Panto! Ever!
Peter Novakovich
Photographer: Prudence Upton.